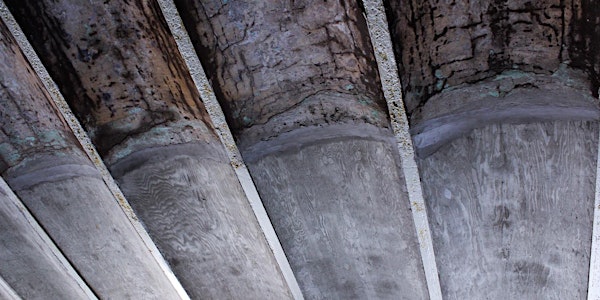 The Quiet Circus: River Charrette 4
Location
Fairmount Water Works
640 Waterworks Drive
Philadelphia, PA 19130
Description
Additional tickets may be available at the door.
For the fourth and final The Quiet Circus: River Charrette, Philadelphia Contemporary and Headlong are revisiting the path of the city's watershed, urban expansion and cultural heritage. The public is invited to join a silent Walk into the Fairmount Water Works' hidden, underground natatorium and to witness a Performance and post performance Conversation. We will explore the correlations between society and its environment, and will rethink topics around diversity, sustainability and consciousness.
Inside the historic Kelly Pool, artist and choreographer David Brick will perform with his 79-year old Deaf mother, Carolyn Brick. They will perform Island of Signs — a performance that informs and is informed by the weekly performance of the Island score in The Quiet Circus, a year-long performance residency at the Washington Avenue Pier. Their site-specific duet includes excerpts from the documentary "Beyond Silence", recorded in 1959 at Gallaudet University, that simultaneously features and silences Carolyn's experience as a Deaf student. Island of Signs is also a meditation on issues of power and vulnerability in a family with three Deaf and two hearing members.
A post performance conversation will initiate questions about human interaction, contemplation and responsibility. Together with performance creator David Brick, special guests Deenah Loeb (Executive Director at the City Parks Association) and David Barnes (Associate Professor for History of Medicine and Public Health in the Department of History and Sociology of Science at the University of Pennsylvania) will jointly ask: How can linguistic diversity and social inclusiveness contribute to the health and vigor of human societies, their cultures and their environment? How one can keep a commitment to equality, equity and inclusiveness while expanding and developing the city's urban landscape and maritime borders?

After the conversation, audience members are invited to a gathering with hot drinks, celebrating the fourth River Charrette.

The River Charrette is free of charge and open to the public. RSVP desired.
* The event will start at 4PM at Philadelphia's historic reservoir, below the Philadelphia Museum of Art's steps towards west entrance and above the remaining water pipelines of the Fairmount Water Works.
* Sign Language Translation will be available throughout the event.
*Attendees will be partly exposed to the weather and should prepare accordingly.
The Quiet Circus: River Charrette 4 is a collaborative project presented by Philadelphia Contemporary & Headlong and hosted by the Fairmount Water Works

Major support for The Quiet Circus has been provided by The Pew Center for Arts & Heritage, with additional support from the William Penn Foundation. The Quiet Circus: River Charrette is a collaborative project by Headlong and Philadelphia Contemporary to engage and explore the city's maritime, industrial, and creative heritage