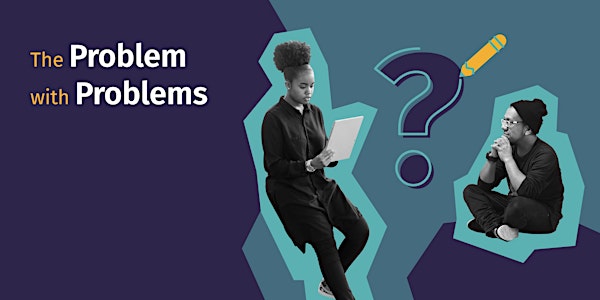 The Problem with Problems Workshop & Train-the-Trainer Series (Spring 2023)
Experience, practice, and facilitate equitable problem definition!
Refund Policy
Contact the organizer to request a refund.
Eventbrite's fee is nonrefundable.
About this event
**All sessions are live & remote, via Zoom (recordings will be provided)**
Equitable problem definition requires us to fully contextualize problems, naming clearly their origins, their manifestations in systems, institutions, and ideologies, and to identify the people that benefit from and perpetuate them, often calling us to implicate ourselves in this process. In this way, equitable problem-definition is itself a powerful agent of equity!
That said, learning how to do it well takes time and practice, and so this Problems with Problems Workshop & Train-the-Trainer Series offering is designed to walk you through it using a real, timely, important problem you're currently grappling with/haunted by, AND help you learn to facilitate this practice for others…that second part is important because equitable problem definition is most impactful when most or enough people in your org/team/department are approaching their work in this way 😎
WHO IS THIS FOR & WHAT WILL I LEARN?
This training is for anyone who is leading or supporting the creation and evolution of interventions, interactions, or institutions. This includes designers, DEI practitioners, project managers, entrepreneurs, and funders. Specifically, this is for anyone who wants to:
⭐Interrogate the way problems are defined by learning the 7 Problems with Problems
⭐Center equity and uncover root causes so that problem statements can lead to effective solutions, and then coach and support others to do the same
⭐Design and facilitate equity-centered problem articulation workshops and processes
⭐Be ready for common participant reactions, questions, and barriers to engaging in the work and how to manage them
WHO ALL IS TEACHING THIS?
The full-day workshop and training series will be facilitated Dr. Christine Marie Ortiz Guzman, alongside other members of our team here at EMD. Dr. Ortiz Guzman is the founder and CEO of Equity Meets Design, creator of the Problems with Problems framework, and author of The Problem with Problems Workbook: A Guide for Using Problem Definition as a Tool for Equity (you'll get one of these in the mail as part of your admission 😘)
WHAT'S THE SCHEDULE?
This is a single offering that has two parts: 1. one full-day workshop designed to take you through our equitable problem-definition tools and process as an actual participant, using a real and pressing problem you're currently grappling with, and 2. four shorter sessions designed to build your capacity to use and facilitate the tools for others (during which we'll provide resources, opportunities to practice, and lots of q&a times).
Session 1: Full-Day Workshop (attendance for the entire day is 👏🏽necessary👏🏽)
Tuesday, 3/28/23, 11:00 am et - 5:00 pm et
(Six hours feel like a lot? Don't fret! An official 40-minute lunch break will be included along with smaller breaks as needed, and of course we always encourage you to take care of yourself and eat, rest, move as you need to! That being said — getting to do just one thing all day is something we rarely have the chance to experience, so, at the end of this day, we think you'll actually thank us 😉)
Session 2: Train-the-Trainer (agenda design/customization + coaching)
Tuesday, 4/4/23, 2:00 pm et - 4:30 pm et
Session 3: Train-the-Trainer (how to teach and coach each of the 7 PwPs)
Tuesday, 4/11/23, 2:00 pm et - 4:30 pm et
***One week break: facilitate a problems workshop on your own! 🎉***
Session 4: Train-the-Trainer (Q&A after the PwP session you facilitated!)
Tuesday, 4/25/23, 2:00 pm et - 4:00 pm et
***One month break: facilitate more problems workshops on your own 🤩***
Session 5: Train-the-Trainer (Final Q&A)
Tuesday, 5/23/23, 2:00 pm et - 4:00 pm et
🚨YOU MUST ATTEND IN GROUPS!🚨
❗LEARN HOW TO SIGN UP FOR THIS 👇🏽❗
You've gotta attend all five sessions with a group of 3 people minimum, 6 people maximum from your organization (ideally your whole team). It's $2,500 total paid one time for each team of 3-6 people.
It's vital to send whole-teams to this workshop/training series because you'll be developing new ways of thinking, talking, and working together that you'll take back to your day-to-day work. If you absolutely can't bring your actual team that you work with directly on a regular basis, bring other folks from your org (or even your friends)!
You'll use the "Collective Group Ticket" option to enroll a maximum of 6 people (and a minimum of 3), but we'll only need one person's information when you purchase. When it gets closer to the start date, we'll reach out to collect information for all the participants from your team.
What if I'm a solo adventurer/I want to attend by myself/I really want to come but I can't find other folks to come with me?
We hear you and we love you, but as of right now, we're not offering an option for single-person attendees. In the case that you don't have a team or coworkers or can't bring them, we encourage you to bring your friends! Find a problem all of you care about and are passionate about solving, and you'll be able to extract all the wonderful learnings in this workshop alongside your pals 👯👯👯
If it's simply not possible to drum up other folks to accompany you, you can get on our single-person waitlist -- we *might* find a way to incorporate single-person attendees closer to the training and if we do, we'll reach out. Please note that this outcome isn't guaranteed and that the price currently listed for single-person tickets is a placeholder.
By getting on the waitlist, you're just saying you're interested in more info -- it's not a commitment! If we end up offering a single-person option, we'll make the final participation details/price info available to you and you'll be able to decide at that time if you'd like to proceed.
Get on the waitlist by clicking the orange/red "Tickets" button in the upper right-hand side, then click "Join Waitlist" and input your info.
Why is it so important to attend in groups?
Having multiple opinions, vantage points, lived experiences, etc. is crucial to the process of equitable problem definition, and folks go much further and deeper when they participate in this workshop in teams of at least 3 people and ideally 4-6 people.
Additionally, equitable problem definition – like most equitable design skills – isn't a destination, goal, or outcome…it's a communal practice. It's a new way to understand and redesign reality, requiring us to learn different ways of working together — and not for a desired outcome, but *as* the desired outcome.
ATTENDANCE POLICY & RECORDINGS:
~You gotta come to the full-day workshop on Tuesday, 3/28/23 from 11:00 am et to 5:00 pm et for the whole damn day fam. Every person on your team also has to attend for whole damn day 😁
~Recordings will be provided for all sessions and will be available for at least two months after the series is over, but you'll have the best, fullest experience if you attend in-person because we'll be engaging in real-time equity design work with live coaching, peer conversation, and offering opportunities to ask questions in real-time
WHAT'S THE INVESTMENT?
$2,500 for the Collective Group Ticket -- up to 6 people total (and a minimum of 3)
🚨A NOTE ON HOMEWORK/PRACTICE 🚨
The magic of equitable problem definition facilitation training really comes to life when you…well…practice facilitating equitable problem definition 🤣.
In order to get the most from this training, you truly do have to use the one-week and one-month breaks listed above to facilitate your own sessions (even if they're informal and just for friends or coworkers). We'll give you guidelines on what to do and how to do it, but – we mean this with love – the following through part is on you 💋
🚨 WORD-TO-THE-WISE FOR BEGINNERS 🚨
If you're newer to problem definition, facilitation, and/or equity work, this series might feel a bit firehose-y because we'll be making references to basic equity design and facilitation concepts without diving into them in great detail. We say this not to discourage you, but just to be upfront that you might have to spend some time getting caught up on the fundamentals on your own, and, if that's cool with you, just know there's a good amount of time in between the sessions in order for you to do just that!
~~~
FAQ:
ACTUALLY, MY JOB SHOULD TOTALLY FREAKING PAY FOR THIS!
We agree, which is why you should send them this Employer FAQ and ask👏🏽them👏🏽to👏🏽pay👏🏽up👏🏽 🤑💸
P.S. Not sure what to say in order to ask? Use the email template we wrote just for you, and if you'd like even more guidance, here's our Guide to Getting your Employer to Sponsor You.
REFUND POLICY:
We want you to be totally happy and fulfilled, so, if you're not satisfied with the course, please let us know at sayhello@equitymeetsdesign.com and we'll do our best to make it right. Refunds can be requested up until one calendar week after the course ends.
🚨Important Caveats!🚨
Refunds are not available for scheduling conflicts, even unforeseen ones ☔. Don't forget that sessions will be recorded in case you've gotta miss one, two, or a few 😘.
Please note: we cannot retroactively apply coupon codes!
ProTip: If you're having trouble finding where to input a coupon code, you're not alone -- when you're on the shopping cart page, look for the blue "Enter promo code" text in the upper left-hand corner.
TRANSPARENT PRICING POLICY:
How did y'all price this?
This isn't a weird price-flex but just to keep it 💯 – we honestly charge our clients a whole lot more for similar content. This offering is priced on the lower side because we really believe in the power of equitable problem definition and we want to make this offering accessible for many folks. Additionally, we're still iterating our content, building and refining our materials around the training piece, and figuring out what common questions folks have and what support they usually need throughout this process. This is all a long-winded way of saying that if you like a good deal, might not be a bad idea to grab your seats this time 'round because there's a good chance admission will go up in the future ⬆️💸
Who gets discounts and how do those happen?
If/when we offer discounts, folks who are subscribed to our newsletter find out first, so make sure you're signed up!
HAVE QUESTIONS?
Email us at sayhello@equitymeetsdesign.com and we'll get back to you super soon 😘