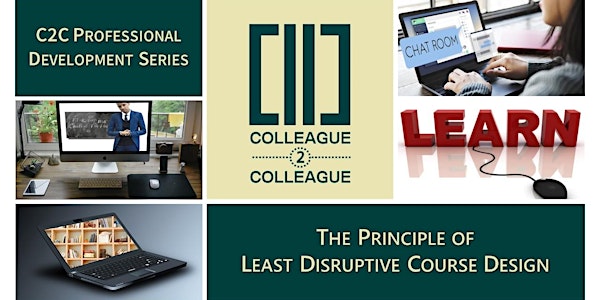 The Principle of Least Disruptive Online Course Design
Colleague2Colleague (C2C) Professional Development Series: virtual opportunities for collaborative learning on the 4th Monday of each month.
Date and time
Monday, March 28, 2022 · 2 - 3pm PDT
About this event
The Principle of Least Disruptive Online Course Design
Monday, March 28, 2022
4:00 -5:00 pm CDT
Description:
The inclusion of new or different technologies in course design, although well-intentioned, can adversely impact student learning if not accompanied by opportunities and resources that:
Validate the appropriateness of digital tools and their purpose
Promote faculty-use competency,
Promote student-use competency,
Provide guided application, and
Allot ample time and resources for learning and engagement.
Faculty and course designers should embrace the new opportunities presented by the latest and greatest in digital innovation. At the same time, it is critically important to assure that students and faculty can use these tools and strategies in a seamless way and without sacrificing opportunities for learning and success. In this interactive session, we will review the principles of the least disruptive course design. Participants will also receive a document summarizing research related to this approach to course design.
Facilitator:
Brad Garner serves as Digital Learning Scholar in Residence at Indiana Wesleyan University. Before moving into higher education, his career was focused on program and faculty development in K-12 public school settings, where he worked as a classroom teacher, school psychologist, and administrator. Garner is a frequent presenter at conferences and workshops and has authored several publications, including Engaged Learners and Digital Citizens (2016) and Teaching Students to Become Digital Content Curators (2019). His most recent research activity has focused on the use of digital technology and the concept of "inclusive hospitality" in online learning. Brad is the co-host of the "Digital to Learn Podcast."
If you have questions or comments in advance of the session, please email the PD Subcommittee Chair, Melissa Kay Hort (mkhort@ksu.edu). You may also email inquiries at any time to Colleague2Colleague (c2c.sidlit@gmail.com).