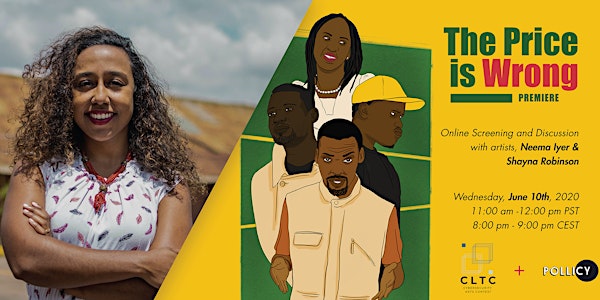 "The Price Is Wrong" Premiere Screening and Live Q&A
Description
The Center for Long-Term Cybersecurity (CLTC) and Daylight Security Research Lab invite you to join us for a series of virtual events showcasing several winners of our inaugural Cybersecurity Arts Contest. Over the next several months, we will host three online events featuring some of the completed cybersecurity-related art pieces. We will premiere the artists' work along with a live discussion and Q&A with each of the artists and collaborators.
The first event of the series is "The Price Is Wrong", featuring Neema Iyer and Shayna Robinson in discussion with Elizabeth Resor on Wednesday, June 10, 11:00am - 12:00pm (PDT).
Cybersecurity still seems like a foreign topic in Uganda, according to Iyer, Executive Director of Pollicy, a civic technology organization that works at the intersection of data, design, and technology to revolutionize civic engagement and participation. "Major hacks of mobile money and banking system are kept hush and swept under the carpet, with billions lost," Iyer and her collaborator, Shayna Robinson, wrote in their CLTC arts contest proposal. Iyer and Robinson aim to shift the dialogue around these issues through "Price is Wrong," a three-part mockumentary series aimed at starting a discussion on cybersecurity within the African context through the lens of comedy and realism.
We will share the "The Price Is Wrong" episodes with all registered participants 10 days prior to the event. Join us on June 10 for a live discussion and Q&A with Neema and Shayna.
Watch a trailer for The Price Is Wrong here: https://vimeo.com/414688115