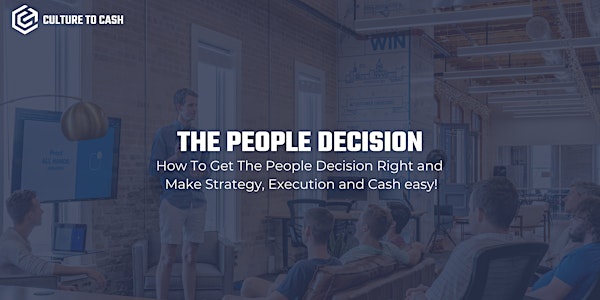 The People Decision: A Scaling Up Workshop
THE PEOPLE DECISION How To Get The People Decision Right and Make Strategy, Execution and Cash easy!
Date and time
Thursday, August 24 · 9am - 5pm MDT
Location
The Horn Funding Corp 169 Inverness Drive West #Ste 130 Englewood, CO 80112
Refund Policy
Contact the organizer to request a refund.
Eventbrite's fee is nonrefundable.
Agenda
CASH MODEL
---
How to double your operating cash flow in twelve months.
MARKET INTELLIGENCE
---
How leading firms "learn faster" to remain ahead of their competitors and to drive priority setting.
PEOPLE
---
Build a Team of "A Players" that are Rockstars and aligned with your culture.
CULTURAL FOUNDATION
---
Bringing your core values and core purpose alive to energize your employees and simplify your human resource systems.
BHAG (BIG HAIRY AUDACIOUS GOALS)
---
Aligning it with your business fundamentals.
7 STRATA OF STRATEGY
---
The SEVEN key decisions your firm needs to focus on strategically to keep driving top line revenue growth & profit.
ANNUAL & QUARTERLY FOCUS
---
The most critical short term decisions an executive team can make to drive alignment and performance.
ROCKEFELLER HABIT CHECKLIST
---
Ten essential habits that reduce the executive time needed to manage the business from 50 hours/week to less than 15 hours.
MEETING RHYTHM
---
The daily, weekly, monthly, quarterly, and annual meeting rhythm and the specific agendas that make them effective and practical.
METRICS
---
The three types of metrics that drive the business on a daily and weekly basis.
PRIORITIES
---
Using daily, weekly, and quarterly themes to drive alignment and focus
FUNCTION ACCOUNTABILITY CHART
---
The most effective organizational charts and how to apply them to keep everyone accountable.
QUARTERLY THEMES
---
How to use them to make your priorities memorable and add energy to your organization
About this event
Join us for an exciting and interactive workshop on "The People Decision: How to Get It Right and Make Strategy, Execution, and Cash Easy!" In this engaging session, we will dive into the four critical drivers of business success: People, Strategy, Execution, and Cash.
During this workshop, you will gain valuable insights and practical strategies to optimize your people decisions, align them with your overall business strategy, and drive successful execution that leads to financial success. We will explore the crucial role of people in building high-performing teams and creating a culture of excellence.
Here's what you can expect to learn:
🎯 Understanding the impact of people decisions on your business outcomes
🎯 Strategies for attracting, hiring, and retaining top talent
🎯 Creating a compelling company culture that inspires and motivates
🎯 Building effective teams and fostering collaboration
🎯 Aligning your people strategy with your overall business goals
🎯 Implementing execution strategies that drive results
🎯 Maximizing cash flow and financial success through smart people decisions
This workshop is designed for business owners, leaders, and decision-makers who are passionate about unlocking the true potential of their organizations. Whether you're a seasoned entrepreneur or just starting out, this workshop will provide you with actionable insights and practical tools to enhance your people decision-making process.
Don't miss this opportunity to gain valuable knowledge and network with like-minded professionals. Seats are limited, so reserve your spot now by visiting workshop.culturetocash.com or contacting us at team@culturetocash.com.
Invest in your business success by investing in your people decisions. Join us at "The People Decision" workshop and pave the way for a thriving and prosperous future!
We look forward to seeing you there!