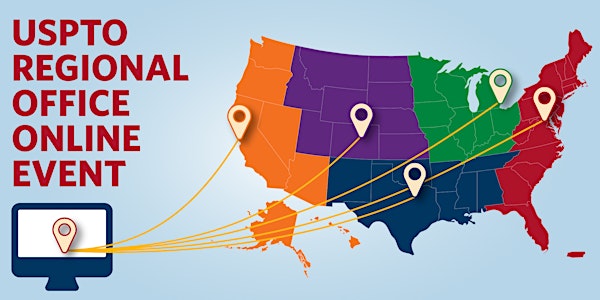 The Path to a Patent, Part III: Patent searching
The USPTO's Regional Offices invite you to join us for The Path to a Patent: Patent searching
About this event
Before you file your patent application, you need to conduct a prior art search. Learn about the benefits of searching, how to perform a prior art search using keywords and the Cooperative Patent Classification (CPC) system, and how to build a search strategy. We will also provide resources for filing your application.
The April 30 session will be offered virtually via WebEx to those registered for the event. Please register by April 29th.
For accessibility requests, please email rockymountain@uspto.gov or call 303-297-4600. 
Contact information for participating regional offices, as well as local start times for this event, is as follows:
•Silicon Valley Regional USPTO: Email siliconvalley@uspto.gov or call 408-918-9900. Event time: 10 a.m. PST.
•Rocky Mountain Regional USPTO: Email rockymountain@uspto.gov or call 303-297-4600. Event time: 11 a.m. MST
•Texas Regional USPTO: Email TexasRegionalOffice@uspto.gov or call 469-295-9000. Event time: Noon CST.
•Eastern Regional USPTO: Email easternregionaloutreachoffice@uspto.gov or call 571-272-2243. Event time: 1 p.m. EST.
•Midwest Regional USPTO: Email MidwestRegion@uspto.gov or call 313-446-4800. Event time: 1 p.m. EST.
The United States Patent and Trademark Office (USPTO) collects this information under authority of 35 U.S.C. 2(b)(2). The information you provide will be used to register to participate in Agency-sponsored events and programs designed to disseminate information to the public on topics related to patents and trademarks.  This system includes information about individuals who have requested participation in an Agency-sponsored event or program. The information is protected from disclosure to third parties in accordance with the Privacy Act. However, routine uses of this information may include disclosure to the following: to non-Federal personnel under contract to the Agency; to a court for adjudication and litigation; to the Department of Justice for Freedom of Information Act (FOIA) assistance; to members of Congress working on behalf of an individual; and to National Archives and Records Administration for inspection of records. If you do not furnish the requested information, the USPTO may not be able to process your request for participation in the event or program. The applicable Privacy Act System of Records Notice for this information request is PAT-TM-19, Dissemination Events and Registrations: Federal Register vol. 71 December 27, 2006, page 77739, available at
https://www.federalregister.gov/documents/2006/12/27/E6-22122/privacy-act-of-1974-system-of-records