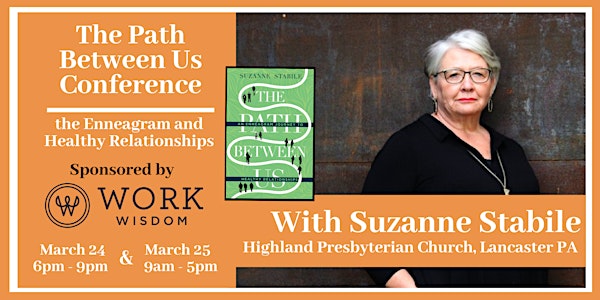 The Path Between Us: Enneagram Conference with Suzanne Stabile
Join Enneagram master teacher Suzanne Stabile to learn how to use the Enneagram for healthier relationships!
When and where
Location
Highland Presbyterian Church 500 East Roseville Road Lancaster, PA 17603
About this event
This event is scheduled for
March 24, 2023: 6:00pm - 9:00pm
March 25, 2023: 9:00am - 5:00pm (lunch included)
The Path Between Us: The Enneagram and Healthy Relationships with Suzanne Stabile
"Few people can teach you the Enneagram with the genuine insight, humor, and potential for real growth and change better than Suzanne Stabile!" — RICHARD ROHR
In today's world, it's challenging for most of us to process our interpersonal experiences and understand how others view us. This makes relationships hard, whether with intimate partners, friends, family members, or professional colleagues. The Path Between Us Conference will guide you into more profound insights about yourself, God, and those around you so that you can experience healthier, more life-giving relationships. Together we will look at the nine Enneagram types and explore how each number behaves and interacts relationally. Additionally, we will dive deeper into the motivation and dynamics of the different Enneagram types, unlocking mystifying behavior in ourselves—and in others.
Lunch during the day-long portion of the conference is included with your ticket. During registration, please indicate if you have any dietary restrictions. We will make every reasonable effort to accommodate requests.
Suzanne Stabile is recognized as one of the leading authorities of the Enneagram in North America. She is the best-selling author of The Road Back to You and The Path Between Us, and hosts the popular Enneagram Journey podcast. Stabile trained with Fr. Richard Rohr and has taught at his Center for Action and Contemplation. Over the past 25 years, she has taught the Enneagram to thousands of people in corporate settings, churches, conferences, and mental health workshops.
"Suzanne has been a priceless source of wisdom in my life for many years. She is without question the best Enneagram teacher out there." — NADIA BOLZ-WEBER
Pre-Conference Dinner: Start your conference weekend in a more intimate setting by joining us for an exclusive dinner on Friday, at 5pm. When you arrive, you will have the opportunity to write down your most pressing question. Our trained interviewer will pose your questions to Suzanne while you enjoy the catered dinner. Don't worry about rushing to the conference; we'll hold preferred seats for you! Simply choose the ticket with the Pre-Conference Dinner + Preferred Seating at checkout!
Book Signings: Bring your book along, or buy one at the conference, for Ms. Stabile to sign. She will be doing book signings on Saturday during part of the lunch break and after the conference concludes.
Travel and Lodging: Lodging and travel are the responsibility of the attendees. Click here for PRC's favorite Lancaster-area lodging and dining recommendations.
PRC Members: Those affiliated with PRC Member churches receive discounted tickets-for-two! Bring a spouse, friend, or colleague to learn how to better your relationship!
FRIDAY:             5:00 PM - Pre-Conference Dinner **SOLD OUT**
Conference Begins 6:00 PM - Session 1
7:30 - Break (Break times are approx.)           
7:50 - Session 2            
9:00 - End
SATURDAY:            9:00 AM - Session 3              
10:15 - Break (Break times are approx.)            
10:45 - Session 4            
11:20 - Q&A            
11:45 - Lunch (book signing at end of lunch)            
1:15 PM - Q&A            
1:30 - Session 5           
2:45 - Break  (Break times are approx.)            
3:05 - Session 6           
5:00 - End (book signing at end of conference)
Join us for an inspiring and illuminating weekend!
**Please Note** The Path Between Us Conference is designed for attendees who have already identified their Enneagram number. If you need an introduction to the Enneagram before this conference, please check out:
Becoming Your Best Self: Introduction to the Enneagram Workshop
Saturday, February 25th - 9:00 am - 4:00 pm at PRC
Suzanne Stabile's introductory book, The Road Back to You
Suzanne Stabile's podcast, The Enneagram Journey
There are no refunds for this event.