Sales Have Ended
Registrations are closed
Thank you for joining us. National PLACE works to empower family-led organizations to advocate effectively to ensure a place at decision-making tables for every family and family organization. To Become a Member, visit us at http://www.parentsatthetable.org/join-us
Sales Have Ended
Registrations are closed
Thank you for joining us. National PLACE works to empower family-led organizations to advocate effectively to ensure a place at decision-making tables for every family and family organization. To Become a Member, visit us at http://www.parentsatthetable.org/join-us
This webinar will introduce two new mini-guides on the parent and parent leader role in decision-making about in-person schooling.
About this event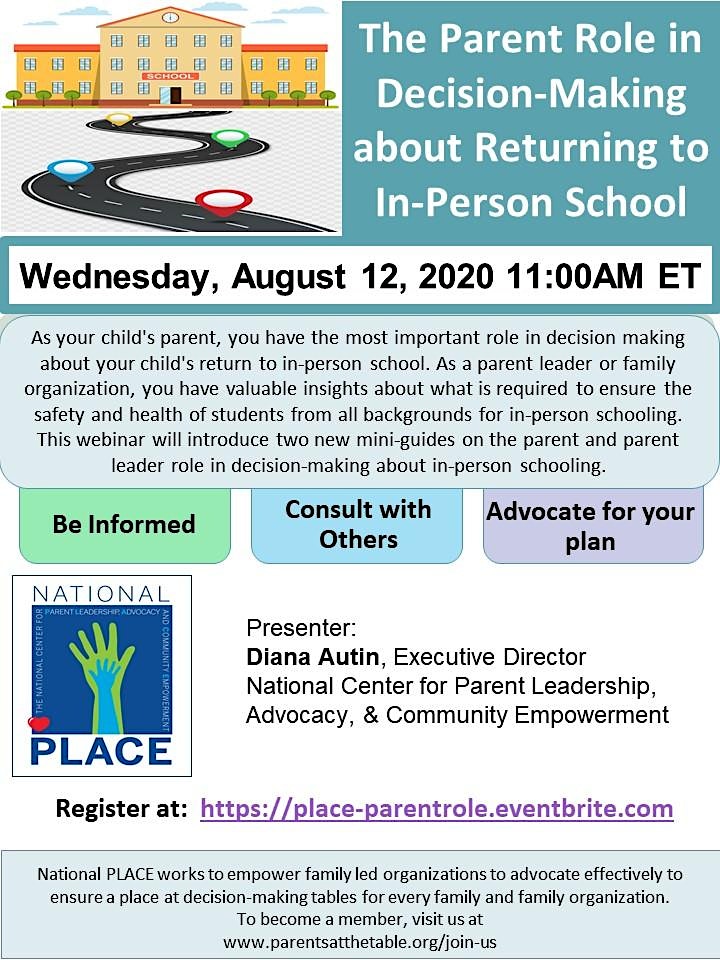 National PLACE works to empower family led organizations to advocate effectively to ensure a place at decision-making tables for every family and family organization.
To become a member, visit us at www.parentsatthetable.org/join-us
Organizer of The Parent Role in Decision-Making about Returning to In-Person School
We are a national non-profit organization committed to helping family-led organizations and individual families acquire the knowledge and skills needed to effectively "sit at the table" and influence the policies and decisions that impact the lives of children, youth, and families, including families that face the greatest challenges due to disability, special healthcare needs, poverty, and discrimination.
To Become a Member, visit us at
www.parentsatthetable.org/join-us