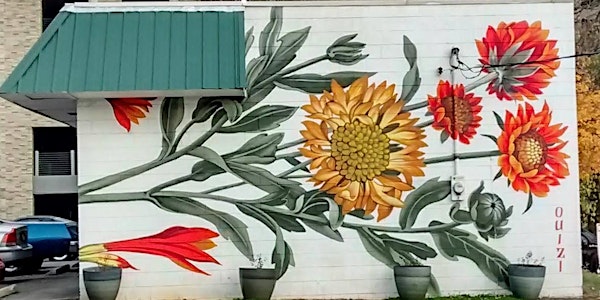 The Original Downtown Raleigh Murals and Public Art Tour
Come on this fun tour to learn all about downtown Raleigh's cool murals and public art!
When and where
Location
300 S Salisbury St Corner of Salisbury St. & Martin St. Wake County Justice Center Raleigh, NC 27601
About this event
This tour is pay-what-you-want ! If you enjoy the tour, please compensate your guide appropriately! CASH ONLY please! Usually, the guide receives $15 to $20 per adult, but you are free to give more or less than that, depending on how you feel about your tour. As you can imagine, the tour guide has to work hard to earn your appreciation!
Tours have always been pay-what-you-want, but advance registration is now REQUIRED. If you do not sign up through Eventbrite for a spot on the tour, you will not be allowed to participate.
This tour leaves the starting point VERY quickly so that we can start seeing all of the fabulous art, so PLEASE be on time! If you are late, you can catch up with us by heading north on Salisbury St. (away from the Wake County Justice Center, NOT along the front of it). We will be on the opposite side of the street from the starting point. The tour then heads west on Hargett St. (turn left from Salisbury St.).
This downtown walking tour takes you off the beaten path and shows you some of Raleigh's best and most vibrant large scale art works!  The main focus of the tour is on Raleigh's creative murals, but we will also see and learn about some other cool public art.  Learn about the artists behind our murals and discover what inspired some of this fabulous art.  Be sure to bring your camera so that you don't miss out on all the great photo opportunities!
If you have an Android phone that is compatible with an app called Abstracted Motion, you will be able to use the app on the tour if you are interested in downloading it ahead of time!  The app is not available for the iPhone.
PLEASE NOTE:  This tour lasts approximately 1 hour and 45 minutes, but may be slightly longer depending on the size and speed of the group.  We will start outside of the Wake County Justice Center, 300 S. Salisbury St, near the entrance that is closest to the corner of Salisbury and Martin Sts.  The tour will end a half block away from the starting point.  There will not be any restroom breaks or stops for food/drinks.
Please plan your parking accordingly.  Free street parking is available on weekends.  If you prefer to park in a deck, the closest parking deck is the Wake County parking deck, located at 216 W. Cabarrus St., on the corners of Davie, McDowell and Cabarrus streets.   Vehicular entrances are located on Cabarrus and Davie streets.
The mural in the photo accompanying this listing is entitled Indian Summer and was painted by Louise Jones, a.k.a. Ouizi. Follow Louise Jones on Instagram at https://www.instagram.com/0uizi/