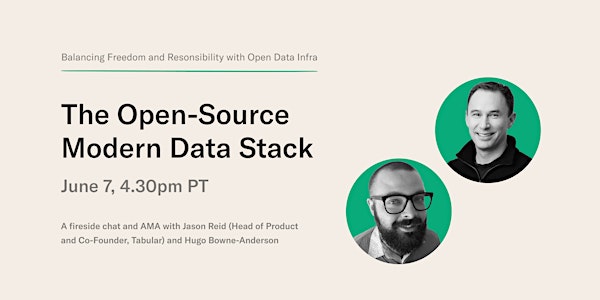 The Open-Source Modern Data Stack
Balancing Freedom and Responsibility with Open Data Infrastructure
Date and time
Wednesday, June 7 · 4:30 - 5:30pm PDT
About this event
Jason Reid is Head of Product and co-founder at Tabular, the company behind Apache Iceberg that powers big data at hundreds of companies. Previously, Jason led data engineering at Netflix as Director of Data Architecture.
In this fireside chat, Jason joins Hugo Bowne-Anderson, Outerbounds' Head of Developer Relations, to discuss how to think about and build a unified, enterprise-grade data platform for diverse workloads, including classic ETL and ML using open-source components. Given a cloud-based data platform, how can you ensure that it robustly serves data engineering needs, machine learning, AI, dashboards, exploratory data analysis, and many other modern use cases of data?
After attending, you'll have an understanding of
Why a toolchain of open-source tools may be a more appropriate choice for your data stack than a single proprietary platform;
How to use the modern OSS toolset built around Apache Iceberg to access and transform data,
How to connect your data to your machine learning pipelines and workflows;
How to make sure you meet security and regulatory requirements;
The importance of data governance and the tooling around it.
And much more! The fireside chat will be followed by an AMA with Jason and Hugo at slack.outerbounds.co.