Sales Have Ended
Registrations are closed
Ticket registration for this event has ended. Please register onsite.
Sales Have Ended
Registrations are closed
Ticket registration for this event has ended. Please register onsite.
Description
---
The One Thing | Workshops
August 7, 2019
To open our 2019 The One Thing Convention, we are conducting a day of workshops straight out of our Corporate Offices. Register now and join us for these informative and helpful workshops that will help propel your SendOutCards business into the future. We will also be conducting Home Office Tours during the day, so if you have any downtime feel free to tour our facility and see where the magic happens!
We will be conducting two trainings during each workshop timeframe, so make sure you register for the correct courses by not over-lapping your time! We will have food trucks available during the lunch break, so feel free to plan on spending your day at the Corporate Office with us!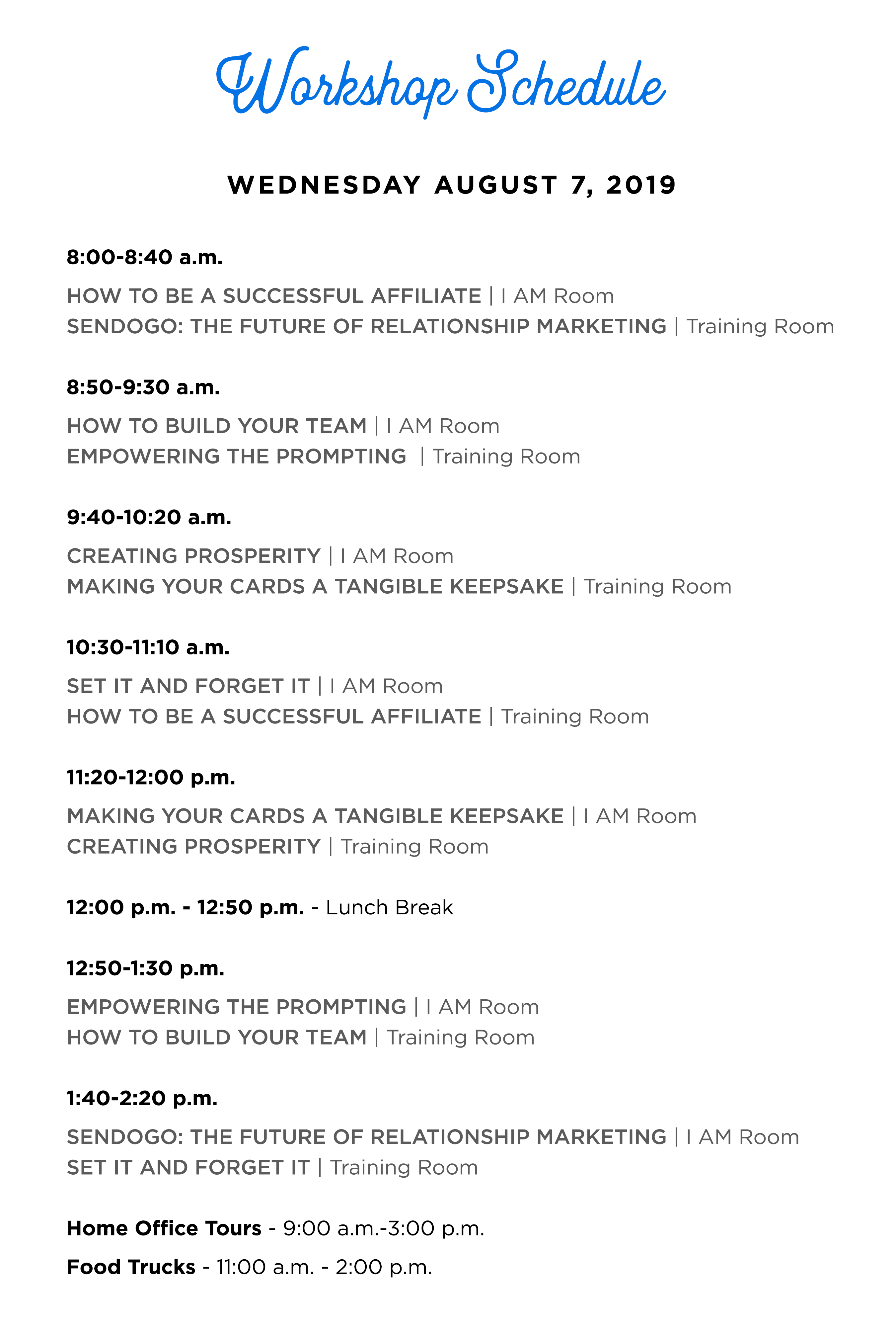 We are very excited that you've chosen to join us for The One Thing Annual Convention! We have put a good deal of time and effort into developing meaningful sessions for you to enjoy. Our goal is for you to leave the Convention with a better understanding of how to be successful and the tools to help you get there.
Be sure to sign up for all desired workshops as these are first-come, first served.
SendOutCards Home Office Workshop Descriptions
The events below will be hosted in two rooms at the SendOutCards Home Office. Two workshops will be running simultaneously, so be sure you are selecting the workshop time you wish to attend.
---
Workshop 1 | HOW TO BE A SUCCESSFUL AFFILIATE
Presented by: Lori Smith and Barbara Fleury
Attend this training from SendOutCards leaders Lori Smith and Barbara Fleury! You will find out all you need to know about becoming a successful Affiliate. They will present how Affiliates use AppreciationPAL to enhance their business, teach how to understand the Revolution Office, as well as help you understand the role you fulfill as an Affiliate of the SendOutCards brand.
8:00 a.m. or 10:30 a.m.
---
Workshop 2 | HOW TO BUILD YOUR TEAM
Presented by: Willie Diefenbach-Jones and Cathy Connors
Building a strong team is a necessity when creating a successful network marketing business. Join presenters Willie Diefenbach-Jones and Cathy Connors to learn the daily disciplines you should follow on the path to building your team and gathering customers. You will also find out how to stay in touch with your downline, how to invite prospects to meetings, and the best way for onboarding your new team members to get them started on their journey to greatness.
8:50 a.m. or 12:50 p.m.
---
Workshop 3 | CREATING PROSPERITY
Presented by: Callie Teegardin and Jordan Adler
The life you dream of living is within your grasp, but you have to be willing to put in the work. This workshop, hosted by Jordan Adler and Callie Teegardin, will teach you all about the Compensation Plan and how you can rank advance through different levels to create yourself a prosperous future. Use this training to come away with a better understanding of the Affiliate/Network Marketing model and how utilizing it can help you create prosperity.
9:40 a.m or 11:20 a.m.
---
Workshop 4 | SET IT AND FORGET IT
Presenters: Joy Klohonatz & Julie Hansberry
Are you looking for ways to simplify your life? Then this is the workshop for you! Learn from Joy Klohonatz and Julie Hansberry as they teach you the art of being able to set it and forget it. This training will highlight how to utilize the Campaign Store and how to create campaigns that leave a lasting impression.
10:30 a.m or 1:40 p.m.
---
Workshop 5 | MAKING YOUR CARDS A TANGIBLE KEEPSAKE
Presenters: Chip Barkel and Edie Iles
Make your cards more than a message that is remembered - create tangible keepsakes that last a lifetime. With presenters Chip Barkel and Edie Iles, you will learn different card creation do's and don'ts, the 3 types of card sends, and the correct ways to set up your cards for maximum retention by the recipient.
9:40 a.m or 11:20 a.m.
---
Workshop 6 | EMPOWERING THE PROMPTING
Presenters: Darla DiGrandi-Aguilera and Tara Rising
Learn how to recognize a prompting in order to harness the power of acting upon it. Have Darla DiGrandi and Tara Rising teach you how to trust your intuition and reach out to others in times of need. They will discuss what messages to share in times of hardship and what celebrations you can use to connect with others on a higher level.
8:50 a.m or 12:50 p.m.
---
Workshop 7 | SENDŌGO: THE FUTURE OF RELATIONSHIP MARKETING
Presenters: Dave Smith and George Redheffer
The future of business follow-up lies within Sendōgo. Attend this workshop to hear from Dave Smith and George Redheffer as they outline how Sendōgo is taking over the world of CRM's and how businesses can flourish by incorporating Sendōgo into their everyday practices.
8:00 a.m or 1:40 p.m.