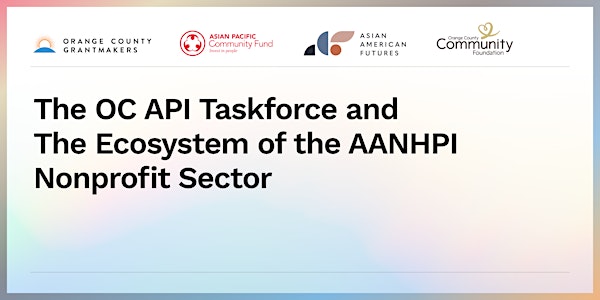 The OC API Taskforce and the Ecosystem of the AANHPI Nonprofit Sector
The OC API Taskforce and the Ecosystem of the AANHPI Nonprofit Sector
Date and time
Wednesday, September 15, 2021 · 10:30am - 12pm PDT
About this event
FUNDER BRIEFING:
Join Orange County Grantmakers, Asian Pacific Community Fund, National Asian American Community Foundation, and Orange County Community Foundation for a conversation around the history, community, and experiences of the Asian American, Native Hawaiian, and Pacific Islander (AANHPI) communities in Orange County.
In response to the COVID-19 pandemic, a unique and first of its kind collaboration developed – the OC API Taskforce, 9 separate agencies representing Asian American and Pacific Islander community members working together and in alignment with one another to ensure equitable access to testing and resources. Now, almost a year and a half in to the pandemic, we invite funders to join for a deep dive conversation into the strategies and lessons that made this taskforce so successful. Please join Ellen Ahn with Korean Community Services, Vattana Peong with Cambodian Family, Ualani Hoopai with Pacific Islander Health Partnership and Becky Nguyen with Vietnamese American Cancer Foundation for a candid discussion around why such a collaborative was needed, what type of infrastructure supporting our AANHPI nonprofit sector was built, and what it means for these community serving agencies moving forward. All funders (you do not need to be an OCG member) as well as government representatives welcome as we discuss next steps and how government and philanthropy can continue to support the important work started by the taskforce.
This is the third in a series of workshops focused on the AANHPI community.
These sessions are open to funders only. Attendees do not need to be a member of OCG to attend.
About the organizer
Orange County Grantmakers (OCG) is a community of philanthropists committed to improving outcomes for Orange County and beyond.