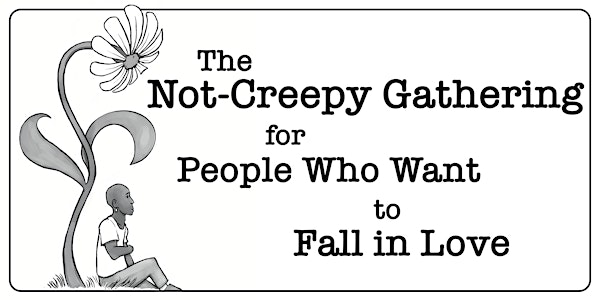 The Not-Creepy Gathering for People Who Want to Fall In Love (IN-PERSON)
This structured, participatory event is all about connection. It's fun. And surprising. And weird! And real.
When and where
Location
Ballard Homestead 6541 Jones Avenue Northwest Seattle, WA 98117
Refund Policy
Refunds up to 7 days before event
About this event
About this Event:
It's happening! The first IN-PERSON Not-Creepy Gathering since pre-pandemic!!!
Okay, you want to meet someone, but "meeting someone" has sooo many layers right now!
Mask or no mask? What's your vaccination status? How big is your bubble? Will being in a crowd feel completely overwhelming? Will I feel even more awkward than usual? Do I even remember how to talk to new people? How do I know what's safe? How do I learn to trust again after more than a year of feeling like nothing is safe? How can we collectively begin to heal from the trauma of a year of isolation?
This event will be geared towards dipping our toes back into the waters of connection. We'll go slowly, taking just a few baby steps back in, back towards each other.
AND, we want this event to be accessible to everyone! For that reason, we're also doing a virtual Not-Creepy Gathering for People Who Want to Fall In Love, via Zoom, on Sunday the 11th. Choose the event that's right for you! Tickets for the online event here: https://7-11-21-notcreepygathering-seattle.eventbrite.com
COVID Protocol
Caring for each other is an important part of these events. In this era, that includes taking public health really seriously. For that reason, proof of full vaccination will be required to enter. THIS IS IMPORTANT!!! You must have had your final dose by June 26. You will not be admitted without proof of vaccination. Acceptable forms include: an official CDC COVID-19 Vaccination Record Card or a picture of your vaccination card; a digital or printed WA State Certificate of COVID-19 Vaccinatio; a WA State Immunization Information System printout; or a verified medical record printout from a medical provider.
Because full vaccination will be required, masks will be optional.
This is very exciting and a little scary -- but isn't that true pretty much any time we open ourselves up to connection?
Tickets
To support equitable access, tickets are sliding scale online.
Please pay what you can to support community events
3-5p event, 2:45p doors
21+
OUTSIDE (weather permitting)
This event will take place outdoors in the beautiful Ballard Homestead yard. In the event of rain, we will move inside the Homestead, which has excellent ventilation!
Event is limited to approx 50 people
Note: Your email will be shared with Jenna the event curator for followup purposes only and will not be sold. You may also be added to the Abbey Arts email list which has an easy single click opt-out option.
[As heard on KUOW & seen in The Evergray & Seattle Times ]
More Event Info
"Are you a nice person who just wants to meet another nice person?
This event is for you!
Wanna know what it would look like if an artist came up with an antidote to cruise-y bar scenes and soulless dating apps?
Come find out!
What if I'm gay?
That's great! This event is not just for straight people.
Aw, I do want love, but I'm too old.
No you're not!! This event draws adults of all ages.
Are you scared?
It's okay. Me, too. Let's be scared together.
I feel weird about looking for love when there's so much anti-racism work to do.
I feel that, too! AND,it turns out, practicing being brave by SHOWING UP as our whole, true selves, even when we're scared, is helpful for relationships and for social justice work. Actually, it's helpful for kind of everything.
* * *
This structured online event is not about scrolling and swiping and making snap decisions based solely on physical appearance. This event is about being open enough to see each other's humanity.
You might meet your new boo! Or you might not. You might meet your new bestie or protest buddy. Or you might just leave feeling more connected to your community and more connected to yourself.
Bring a notebook!"
-Jenna
--------------------------------------------------------------------------
ABOUT SEATTLE WELLNESS EVENTS:
Abbey Arts & Creative Spark (Experiences & Classes to boost creativity) brings you cozy music & arts events adapted to historic spaces, and presented with all public health safety in mind.
Experience a new calmer form of relaxing event held safely at various venues around Seattle. Clear stress, refresh your mind, spark your creativity with live music, multi-arts, yoga, sound baths, creativity classes, and more.
Enjoy a relaxing and small "house concert" type music experience with local LIVE musicians, lots of fresh air and space.
Audience size will be limited and reduced per current Public Health Guidelines. Concerts are held in large spaces rated for 180-260 people normally. Various creative activities will be included in the lobby. Some shows may be hosted outdoors when noted and weather permitting.
More info via www.instagram.com/seattlewellnessevents
--------------------------------------------------------------------------
EVENT & VENUE INFO:
Please refrain from talking during the show.
Please enter quietly if the show has already begun.
Please leave quietly, it's a very quiet neighborhood.
You probably get the idea, this isn't a loud party venue. :-)
For ADA information at Ballard Homestead, please see www.ballardhomestead.org/rent or email arts(at)fremontabbey.org
Quiet Picnics Welcome. Light snacks & non-alcoholic beverages may be available for purchase at the venues, but no other food or bar service at these shows.
--------------------------------------------------------------------------
ABOUT ABBEY ARTS, SEATTLE:
NONPROFIT 501C3, NON-RELIGIOUS, EST. 2005
Presenting welcoming music, arts & cultural experiences for people of all ages & incomes.
Home Venue: Fremont Abbey, 4272 Fremont Ave North, Seattle, WA 98103 / 206-414-8325 Ballard Homestead: 6541 Jones Ave NW, Seattle | + UHeights Auditorium, St Mark's Cathedral, & more