Description
About Workshop:
What is a nimble cook?
Flexible, attentive, pragmatic and ready for anything. The nimble, waste-free cook is someone who can make food at any given moment, using whatever ingredients are on hand. In this interactive workshop, you'll tell us the contents of your kitchen and we'll give you strategies for making them into delicious meals.
This workshop is a perfect fit for you if you ever feel stressed about using up ingredients from your CSA box or after an ambitious trip to the market... or if have tried meal planning on weekends--but despite your best intentions, still find yourself throwing away something wilted or moldy hidden in the back of the fridge. Join us to learn how to banish the worries, cut down on unintentional waste, and start cooking things you'll love with what you already have!
We will be using ingredients from Farm To People, a modern and flexible CSA delivery service that helps you get creative in the kitchen. Learn how they make it easier to access locally and responsibly produced food when you can't make it to the market.
---
About Workshop Facilitator: Ronna Welsh
Ronna Welsh is founder and chef of Purple Kale Kitchenworks, a vibrant culinary studio near the waterfront in Sunset Park, and author of The Nimble Cook. Before striking out on her own, Ronna spent over twenty years in the culinary industry as executive chef, pastry chef, and consulting chef in a host of quirky, beloved New York City restaurants, and also abroad, in France, Spain, Greece, and Sicily, in restaurants and pastry shops, on farms, and in private homes. But when she became a mother, Ronna found herself facing a new challenge: her professional skills in the kitchen were no match for the ceaseless, changing demands of caring for little kids. She knew she needed to figure out how to make consistently healthy, economical, creative, and delicious meals for her family of four. In the end, Ronna transformed restaurant strategies for the home, to align with the whims and mishaps of daily life. Out of this came a more "nimble" approach to home cooking, which put ingredients before recipes and prioritized personal life over strict meal plans.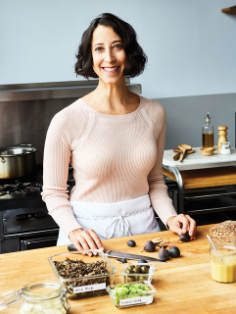 ---
Ticket Options
The Foundation for New York's Strongest is committed to offering programming at reduced rates to enable access for our diverse community. Our mission to end food waste depends on participation from New Yorkers at every income level.
We are offering a discount for low income members of our community to participate in Foundation programming. Please use code ACCESS to unlock reduced rate programming. We request that you consider circumstances beyond your income (ie., education, generational wealth, parental and community support, partnership status and other circumstances that may offer a safety net which allows more resilience when financial setbacks occur)* when choosing to apply this code to your purchase.
*Thank you to the staff at Farm School NYC for this language.
---
Proceeds support The Foundation for New York's Strongest, the official nonprofit organization of the New York City Department of Sanitation.