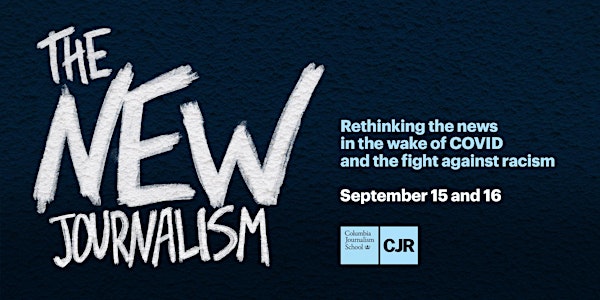 The New Journalism
A two-day symposium from the Columbia Graduate School of Journalism September 15 and 16
About this event
Journalism was in crisis well before COVID, the recent uprisings against racism, and the deep recession. Now, we are facing a blank-slate moment. Much is being lost, but that also means there are huge opportunities to think fresh and rebuild the news industry from scratch. What should we keep and what should we ditch? Who should tell our stories and what should those stories be? How can we hold our media institutions accountable?
Join us for a series of conversations to tackle these questions. We'll hear from some of the most urgent voices in media to talk about where journalism goes next.
Speakers include:
Emily Bell, founding director of the Tow Center for Digital Journalism
Maria Bustillos, founding editor, Popula
Sewell Chan, editorial page editor, The Los Angeles Times
Susan Chira, editor in chief, The Marshall Project
Jelani Cobb, staff writer, The New Yorker, Ira A. Lipman Professor of Journalism at Columbia University
Steve Coll, dean, Columbia Graduate School of Journalism
Bill Grueskin, professor, Columbia Graduate School of Journalism
Cierra Hinton, publisher, Scalawag
Ashton Lattimore, editor in chief, Prism
Kyle Pope, editor and publisher, Columbia Journalism Review
Ben Smith, media columnist, The New York Times
Susan Smith Richardson, chief executive officer, Center for Public Integrity
Duy Linh Tu, documentarian, Columbia Graduate School of Journalism
Ethan Zuckerman, professor, co-founder Global Voices
SCHEDULE
Day 1: Assessing a journalism that doesn't work
Sept. 15, 2 pm - 4 pm
For the last four years, and especially the last three months, it has been painfully clear that a lot of what passes for news is failing. Both sides are being presented when only one is credible. Rank partisanship has replaced fair-mindedness. A lack of newsroom diversity has made the coverage of race inadequate. The effects of social media have decimated the news attention span. How did we get here? What has to be changed, or dismantled, in response?
Introduction and Greeting: Steve Coll, Columbia Journalism School
2 pm — The Failure of News
Moderator: Kyle Pope, The Columbia Journalism Review
Maria Bustillos, Popula
Ben Smith, The New York Times
3 pm — Who Is Journalism For?
Moderator: Susan Smith-Richardson, Center for Public Integrity
Sewell Chan, The Los Angeles Times
Bettina Chang, City Bureau
Andrea Valdez, The 19th
Day 2: Remaking the news: where we go from here
Sept. 16, 2 pm - 4 pm
Acknowledging what's wrong with journalism opens the next, critical conversation: how do we fix it? The status quo is already being abandoned. Now the job is to fill the void. What will the new journalism look like? How will it be structured? How can we shape it? What are the new touchstones we can help create?
2pm — Rebuilding From the Ground Up
Moderator: Emily Bell, Tow Center for Digital Journalism
Duy Linh Tu, Columbia Graduate School of Journalism
Cierra Hinton, Scalawag
Ethan Zuckerman, Global Voices
3pm — Holding the News Accountable
Moderator: Jelani Cobb, Lipman Center for Journalism and Civil and Human Rights
Bill Grueskin, Columbia Graduate School of Journalism
Ashton Lattimore, Prism
Susan Chira, The Marshall Project