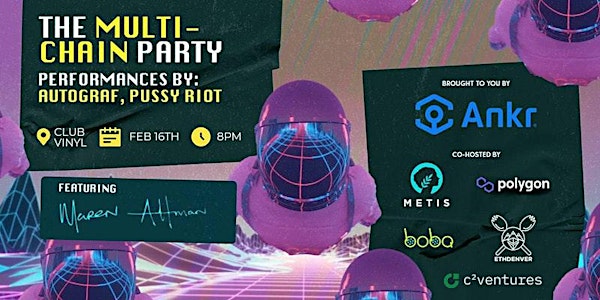 The Multi-Chain Party @Eth Denver: Hosted by Ankr, Metis, Boba, and Polygon
The Multi-Chain Party at Eth Denver with ANKR, Metis, Boba, and Polygon
When and where
Location
Club Vinyl 1082 Broadway Denver, CO 80203
About this event
The Future we be Multi-Chain and this is the party to celebrate it!
Join us for the first in a series of Multi-Chain parties around the world, hosted by Ankr with co-hosts partners Metis, Boba, and Polygon! Musical Performances by Autofraf and Pussy Riot (Vitalik's fav). Also expect a few special guests through the night including CT star Maren Altman!
Open Bar until the bartab blows out (prob around 1) and big DJ's pumping tunes throughout the night. Two sound stages will be setup, one floor with international head-liners and one floor with your favorite DJ's from the Eth community you've come to know and love!
Dress code for the night is multi-chain Ethereum punk. Good luck figuring out what that is, we're not sure ether :)
One thing is for certain though, get ready for an unforgettable night as we roll in the biggest developer week of 2022!
About Ankr
Ankr is building the future of decentralized infrastructure and multi-chain Solutions, servicing over 50 proof-of-stake chains with an industry leading global node delivery system and developer toolkit. Web3 Infrastructure, simplified. Learn more at www.ankr.com and follow Ankr on Twitter.
Pussy Riot: https://open.spotify.com/artist/2hThsqaVEAWhWPBXnaOfB9
Autograf: https://open.spotify.com/artist/0FVj4JuzTyudaXAwfqDQ20
Maren: https://www.youtube.com/channel/UCEEyRsg2SdJbOdW1DW6gbLg