Sorry, the promotional code you entered is not valid.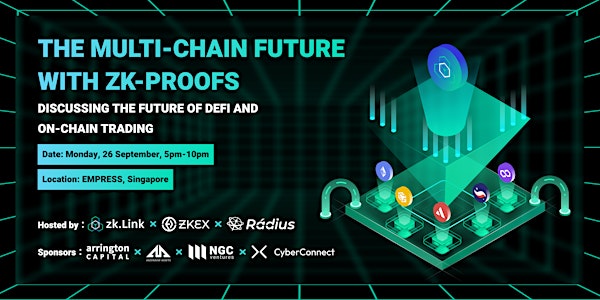 The Multi-Chain Future with ZK-Proofs
Join zkLink, Radius, and ZKEX for a lively discussion how zero-knowledge technology will change the future of multi-chain DeFi and trading.
When and where
Location
Empress 1 Empress Place Singapore, 179555 Singapore
About this event
Zero-knowledge proof technology is considered as the 'endgame' for blockchain scalability, security, and privacy - but how will it make DeFi more accessible for the next billion Web3 users?
Join a lively panel discussion on the outlook for multi-chain DeFi and on-chain crypto trading, followed by a networking party with blockchain enthusiasts from around the world.
Drinks and canapes will be served, and early attendance is encouraged to guarantee a seat and drinks voucher.
Please note:
- registration will put you on the waitlist, and final ticket allocation will be done a week before the event.
- to increase your chance of a ticket, please use your professional e-mail (with a project/company domain if possible).
Hosts:
A secure, unified multi-chain trading layer for DeFi and NFTs: zkLink is a trading-focused multi-chain L2 network with unified liquidity secured by ZK-Rollups.
Offering bridgeless multi-chain crypto trading secured with zero-knowledge, ZKEX is an order book DEX with CeFi performance, while remaining trustless and self-custodial.
Radius is laying the groundwork for a zero-knowledge-based MEV-resistant Layer 3 to mitigate MEV risks while harnessing their benefits through an economical approach.
Sponsors:
Arrington Capital is a thesis-driven venture firm, founded by TechCrunch and CrunchBase founder Michael Arrington, investing in digital assets and web3 since 2017.
Ascensive Assets is a seed-stage venture firm that invests in blockchain-enabled companies across the full spectrum of web3.
NGC Ventures is one of the largest institutional investors of blockchain and distributed ledger technologies, and has been a key contributor to a number of leading blockchain projects.
CyberConnect is a decentralized social graph protocol that helps dApps bootstrap network effects and build personalized social experiences.