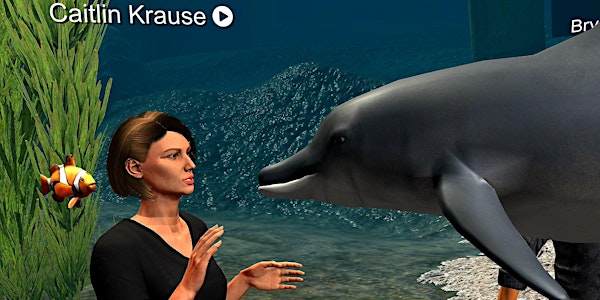 The Mindfulness Experience in VR, November 5 session
When and where
Location
ENGAGE VR Immersive Education
Description
Come join us for The Mindfulness Experience with Caitlin Krause in ENGAGE VR!
This is part of an ongoing event series focused on rejuvenation and discovery in virtual reality. The sessions are held in VR, in a live social space where you can learn and connect in real-time with Caitlin and others worldwide. The ENGAGE VR platform is compatible a variety of VR headsets (details below), so you can join in the active session together.
The November 5 focus is all about exploring the 5 senses and using mindfulness exercises to enhance connection.
Come to learn and practice the principles of mindfulness from Caitlin Krause, acclaimed author and educator. Caitlin's passion for empowering connection and using virtual reality to amplify presence make this course a great opportunity to explore applications in personal life and learning worlds.
For more information (and FAQs) check out this recent blog post on the ENGAGE site:
https://engagevr.io/2019/10/the-mindfulness-experience-with-caitlin-krause-engage-virtual-reality-series/
Each week is a live interactive session, led by Caitlin Krause and hosted by Chris Madsen.
This series is designed for adults, focused on educators interested in building skills in mindfulness, SEL and creative well-being. Each week will have a different focus topic, and can be treated as a stand-alone experience. So, if you haven't joined us yet, you can still jump in for this session! Those pioneers who attend at least 5 of the 8 sessions in the series will earn a certificate.
To learn more and hear about future dates in the series, please visit www.caitlinkrause.com/vr
FAQs
Are there ID or minimum age requirements to enter the event?
This event reaches out particularly to educators and leaders looking to use mindfulness in their daily work and personal life. This, we have limited the age to 18+.
How can I contact the organizer with any questions?
You may directly email Caitlin Krause at caitlin.krause@gmail.com with any questions in advance.You may also reach her on Twitter at @MindWise_CK. If you have any questions about the equipment or getting set up to use the ENGAGE platform, please reach out, because we also run regular tech orientations! This event is open to all levels of VR and mindfulness familiarity. Come curious, and leave refreshed!
Thanks, and hope to see you in the mindful metaverse!