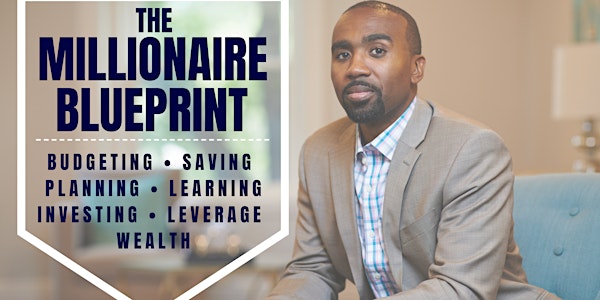 The Millionaire Blueprint
When and where
Location
WeWork Mass. Ave 625 Massachusetts Avenue Cambridge, MA 02139
Description
Here's the truth: You won't become a MILLIONAIRE overnight.
Here's another truth: Becoming a MILLIONAIRE is easier than you think.
Here's the story: Last year, my wife and I became Millionaires. We are both under the age of 35. Telling you this is not about bragging rights or so you can believe that we are special or that we know something you don't. It's actually the exact opposite! While admitting this defies our natural instinct towards privacy, I have a more burning desire to show you exactly how we achieved this milestone and provide you with one possible blueprint for doing it yourself. My hope is that our story will inspire and provide guidance.

Many of you are already making excuses. You don't have the money to start building your wealth. You don't have the knowledge or experience to become an investor. You don't know the people we know. It's too late to start over. You don't have the time. You are in too much debt or you've never been good with money.
Let me stop you here. None of this matters. First off, you don't need to be Millionaires to have an amazing life. Knowing that money isn't going to solve all of your problems is an important thing to remember. However, financial security and stability will provide you with what many are hoping for: freedom and opportunity.
During this meeting, I will share:
Our backstory and how we got started
Investment strategies we've used and what's worked
The detailed numbers of our personal Real Estate portfolio
Exactly how we purchased our first 20 rental units
How the word LEVERAGE has changed our lives
What tools we use to protect ourselves
Our 5-year goals for an "optional" retirement
Here's the final truth: Becoming a MILLIONAIRE takes patience, hustle, grit, and an actionable, scalable, sustainable plan.
I'd love to show you how.

NOTE: This blueprint isn't for you if you are driven by security, comfort, maintaining your own personal status-quo, and a wish to avoid risks.
---
WeWork is a global network of workspaces where companies grow together. Teams of any size can find refreshingly designed collaborative space, private offices, and meeting rooms that energize their employees and their guests. But WeWork is so much more than four walls—providing community, amenities, events, and technology to evolve space into experience.