Refund policy
Contact the organizer to request a refund.
Eventbrite's fee is nonrefundable.
MAEBL 2022 is a hybrid event that brings together a global community of electron beam lithographers.
About this event
The 6th Meeting for Advanced Electron Beam Lithography (MAEBL - www.maebl.org) will be hosted virtually and in-person bringing together the brightest minds in electron beam lithography from around the world. This year, engagement will be fostered by hosting events virtually and in person across different time zones. The main meeting at Caltech will feature the Foundations Workshop and Core Meetings. Bonus MAEBLx meetings will be in the afternoon of their respective region.
MAEBL 2022 at Caltech
Foundations Workshop (PDT) Wednesday, September 14, 2022
Core Meeting (PDT): Thursday, September 15, 2022
MAEBLx (Bonus) Virtual Meetings
MAEBLx Asia-Pacific: 2-4pm AEDT, July 29, 2022
MAEBLx Europe (CEDT): Date/time TBD in November 2022 for 2 hours
The 2022 program is now available for download!
The Foundations Workshop allows users to learn about common topics such as data preparation, proximity effect correction, anti-charging, lift-off processes, and much more. The Core Meeting stirs active engagement with scheduled talks and open discussion.
Attendees have networked with like-minded researchers and scientists and witnessed invited talks from Argonne National Laboratory, the National Institute of Standards and Technology, IBM, Ohio State University, The Pennsylvania State University, the University of Delaware, Brookhaven National Laboratory, Caltech, Yale, the University of Pennsylvania, Sandia National Laboratory, MIT and many more!
Program Highlights:
Full Registration ($165) provides full access to MAEBL 2022 at Caltech and the bonus MAEBLx regional meetings scheduled in their respective time zones.
Exclusive access to the MAEBL GatherTown space, SLACK channels and invited speakers.
Over 10 hours of networking opportunities.
Open discussions in our Common Challenges segment, to pose live questions to the MAEBL community comprised of a serious group of EBL experts who love to share their knowledge.
No non-sense EBL shop talk. More application than theory for the EBL practitioner.
Topics of discussion include but are not limited to:
Proximity Effect Correction
Resist Characterization
Scripting and Automation
Pattern Fidelity Enhancement
Throughput Enhancement
Pattern Transfer (Etch and/or Lift-off)
Anti-charging
Field Stitching
Beam Drift
Image Processing
Data Preparation
Simulation
Device Fabrication
REGISTRATION and QUALIFICATIONS TO REGISTER
Registration helps to offset the operational costs of the meeting series. All active EBL tool owners and users from academic, industry, or government institutions are encouraged to attend. To promote intimate dialogue, we have kindly requested that EBL hardware vendors refrain from registering. Automatic attendance is granted to organizers, speakers, and non-EBL-hardware vendor sponsors. Advance online sign-up is required to participate as there will be no on-site registration. This year Caltech is permitting up to 50 in-person attendees to be on campus. Please see http://together.caltech.edu/ for further guidance for on-campus participating. Thank you for your cooperation and understanding. A single registration is not for an organization; it is for an individual and is not transferrable.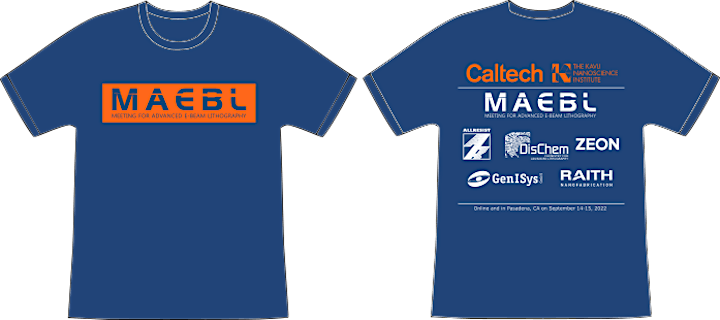 ATTENDING IN PERSON
The health and safety of the MAEBL community are our primary concern. Caltech's policies for on campus engagement are outlined at http://together.caltech.edu/. If you are attending in person, Caltech requires each attendee to be fully vaccinated and boosted. Everyone must be ready to show proof of vaccination upon request. Again, this means an in-person attendee:
completed a second dose in a 2-dose series (Pfizer or Moderna vaccine) or a single-dose vaccine (Johnson & Johnson) and
is 2 weeks after receiving a booster.
All attendees are required to wear a face-covering regardless of vaccination status. In the event of contact tracing, your information may be shared with the MAEBL Board, host, or any other responsible entities.
REFUND and REGISTRATION TRANSFER POLICY
No refunds will be issued.
Please be mindful that we are a non-profit organization operated by volunteers. A single registration is for an individual (not an organization) and is not transferable. Anyone wishing to attend must register under their own name. An attempt to transfer registration undermines our mission and capacity to organize meetings for the electron beam lithography community. Thank you for your cooperation and understanding of this matter.
PRIVACY POLICY
In the event of contact tracing, your contact information may be shared with the host institution and/or any other responsible entities. For all other purposes, your registration information will not be distributed without your consent.
SPONSORS
We like to acknowledge our sponsors for MAEBL 2022.