MAEBL 2021 will be virtual and in-person at the UPenn Singh Center for Nanotechnology
About this event
The 5th Meeting for Advanced Electron Beam Lithography (MAEBL - www.maebl.org) will be hosted virtually and in-person at the University of Pennsylvania Singh Center for Nanotechnology. MAEBL 2021 brings together the brightest minds in electron beam lithography throughout North America and around the world.
MAEBL Foundations Workshop: Tuesday, November 9, 2021
MAEBL Core Meeting: Wednesday, November 10, 2021
The full program is available for download and is subject to change.
The Foundations Workshop allows users to learn about common topics such as data preparation, proximity effect correction, anti-charging, lift-off processes, and much more. The Core Meeting is what started it all with active engagement of scheduled talks and open discussion.
Attendees have networked with like-minded researchers and scientists and witnessed invited talks from Argonne National Laboratory, the National Institute of Standards and Technology, IBM, Ohio State University, The Pennsylvania State University, the University of Delaware, Brookhaven National Laboratory, Caltech, Yale, the University of Pennsylvania, Sandia National Laboratory, MIT and many more!
Program Highlights:
The meeting features over 4 hours of networking.
Participate in our Common Challenges segment, our open forum group discussion promotes engagement by allowing users to pose questions to the attendees.
Topics of discussion include but are not limited to:
Proximity Effect Correction
Resist Characterization
Scripting and Automation
Pattern Fidelity Enhancement
Throughput Enhancement
Pattern Transfer (Etch and/or Lift-off)
Anti-charging
Field Stitching
Beam Drift
Image Processing
Data Preparation
Simulation
Device Fabrication
REGISTRATION and QUALIFICATIONS TO REGISTER
Registration helps to offset the operational costs of the meeting series. To qualify to attend, you must be an active EBL tool owner/user at a recognized academic, industry, or government lab and must sign up using your institution's e-mail. To promote intimate dialogue, we have kindly requested that EBL hardware vendors refrain from registering. Advance online sign-up is required to participate. Thank you for your cooperation and understanding.  A single registration is not for an organization; it is for an individual and is not transferrable. REGISTER BY OCTOBER 7, 2021, to receive a t-shirt by mail!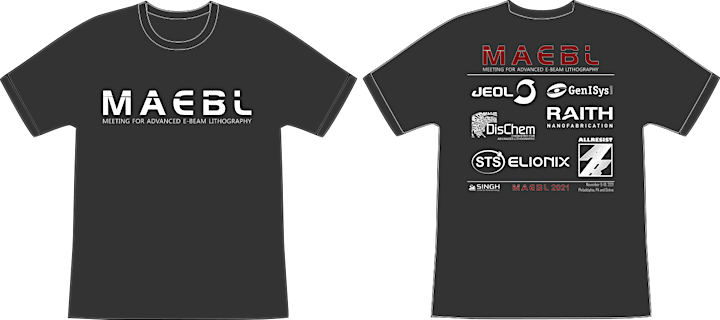 ATTENDING IN PERSON
The health and safety of the MAEBL community is our primary concern. If you are attending in person, the University of Pennsylvania requires each attendee to be fully vaccinated and be ready to show proof of vaccination upon request. According to the Centers for Disease Control and Prevention, individuals are considered to be fully vaccinated:
2 weeks after their second dose in a 2-dose series, such as Pfizer or Moderna vaccine or
2 weeks after a single-dose vaccine, such as Johnson & Johnson.
All attendees will be required to wear a face covering and complete the PennOpen Pass using their phone. In the event of contact tracing, your contact information may be shared with the University or any other responsible entities. For more information about the University of Pennsylvania's COVID-19 policies, please review its Public Health Guidance.
GETTING HERE
If you're arriving by plane into PHL, you can take the train to University City. Cabs are also available at the airport as well as UBER and Lyft. Car rentals are also available at the airport. If you're arriving by car, please refer to the parking information above. If you're arriving by train, the Singh Center for Nanotechnology is considered within walking distance from 30th Street Station. You can also take a cab, UBER, or Lyft from this location.
PARKING
If street parking is not available, please park at the Chestnut 34 Garage whose location and rates can be found using the following link: http://cms.business-services.upenn.edu/transportation/live-maps/parking-map.html
HOTELS
There are a few hotels in University City that are considered within walking distance to the Singh Center for Nanotechnology:
Sheraton Philadelphia University City Hotel: 36th and Chestnut
The Inn At Penn - A Hilton Hotel: 36th and Walnut
Homewood Suites by Hilton: 41st and Walnut
The Study At University City: 33rd and Chestnut
Alternatively, Center City has a few options near the Convention Center and the historic City Hall. If you stay at any Center City location listed below, take any trolley from 13th Street Station to 33rd St. Station on Market Street or the westbound busses #21 or #42 along Walnut Street and walk to the Singh Center for Nanotechnology.
Courtyard by Marriott Philadelphia Downtown
Residence Inn by Marriott Philadelphia Center City
Philadelphia Marriott Downtown
Hilton Garden Inn Philadelphia Center City
Home2Suites by Hilton Philadelphia
REFUND and REGISTRATION TRANSFER POLICY
No refunds will be issued.
Please be mindful that we are a non-profit organization operated by volunteers. A single registration is for an individual (not an organization) and is not transferable. Anyone wishing to attend must register under their own name. An attempt to transfer registration undermines our mission and capacity to organize meetings for the electron beam lithography community. Thank you for your cooperation and understanding of this matter.
PRIVACY POLICY
In the event of contact tracing, your contact information may be shared with the University or any other responsible entities. For all other purposes, your registration information will not be distributed without your consent.
WHAT HAPPENS IF WE NEED TO GO 100% VIRTUAL?
With the ongoing COVID pandemic, the situation remains fluid and may require us to pivot to a completely online event. If we go completely virtual, the meeting will be rescheduled to 3 pm - 5 pm EST, November 8-12, 2021, to accommodate our international community. A formal announcement will be sent to the community should we make this pivot and changes to our program will be applied.