Event Information
Location
Rough Point
680 Bellevue Avenue
Newport, RI 02840
Refund policy
Contact the organizer to request a refund.
Eventbrite's fee is nonrefundable.
Beatriz Williams, Lauren Willig, and Karen White launch their national tour for THE LOST SUMMERS OF NEWPORT at Newport's Rough Point
About this event
Join us for a special author reception and book launch event for Beatriz Williams, Lauren Willig, and Karen White as they present The Lost Summers of Newport. 'Team W' will speak about their new work of historical fiction set entirely at a Gilded Age mansion in Newport. Presented by Charter Books and the Newport Restoration Foundation.
Author talk followed by Q&A and book signing.
Tickets include admission to the reception and a signed copy of the book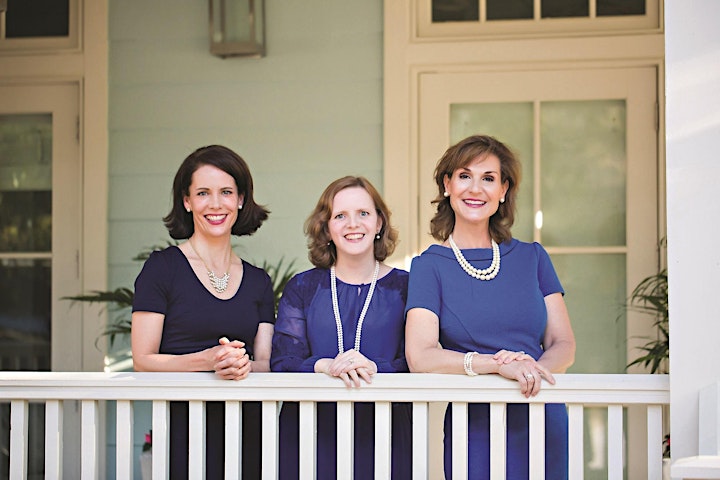 From the New York Times bestselling team of Beatriz Williams, Lauren Willig, and Karen White—a novel of money and secrets set among the famous summer mansions of Newport, Rhode Island, spanning over a century from the Gilded Age to the present day.
"Three stories elegantly intertwine in this clever and stylish tale of murder and family lies…This crackerjack novel offers three mysteries for the price of one."--Publishers Weekly (starred review"
2019: Andie Figuero has just landed her dream job as a producer of Mansion Makeover, a popular reality show about restoring America's most lavish historic houses. Andie has high hopes for her latest project: the once glorious but gently crumbling Sprague Hall in Newport, Rhode Island, summer resort of America's gilded class—famous for the lavish "summer cottages" of Vanderbilts and Belmonts. But Andie runs into trouble: the reclusive heiress who still lives in the mansion, Lucia "Lucky" Sprague, will only allow the show to go forward on two conditions: One, nobody speaks to her. Two, nobody touches the mansion's ruined boathouse.
1899: Ellen Daniels has been hired to give singing lessons to Miss Maybelle Sprague, a naive young Colorado mining heiress whose stepbrother John has poured their new money into buying a place among Newport's elite. John is determined to see Maybelle married off to a fortune-hunting Italian prince, and Ellen is supposed to polish up the girl for her launch into society. But the deceptively demure Ellen has her own checkered past, and she's hiding in plain sight at Sprague Hall.
1958: Lucia "Lucky" Sprague has always felt like an outsider at Sprague Hall. When she and her grandmother—the American-born Princess di Conti—fled Mussolini's Italy, it seemed natural to go back to the imposing Newport house Nana owned but hadn't seen since her marriage in 1899. Over the years, Lucky's lost her Italian accent and found a place for herself among the yachting set by marrying Stuyvesant Sprague, the alcoholic scion of her Sprague stepfamily. But one fateful night in the mansion's old boathouse will uncover a devastating truth...and change everything she thought she knew about her past.
As the cameras roll on Mansion Makeover, the house begins to yield up the dark secrets the Spragues thought would stay hidden forever….
Beatriz Williams is the bestselling author of eight novels, including the New York Times bestsellers The Summer Wives, A Hundred Summers, The Secret Life of Violet Grant, A Certain Age and The Golden Hour. A native of Seattle, she graduated from Stanford University and earned an MBA in finance from Columbia University, then spent several years in New York and London as a corporate strategy consultant before pursuing her passion for historical fiction. She lives with her husband and four children near the Connecticut shore, where she divides her time between writing and laundry.
Lauren Willig is the New York Times and USA Today bestselling author of The Summer Country, The Ashford Affair, That Summer, The Other Daughter, and The English Wife, as well as the RITA Award winning Pink Carnation series. An alumna of Yale University, she has a graduate degree in history from Harvard and a J.D. from Harvard Law School. She lives in New York City with her husband, preschooler, baby, and lots and lots of coffee.
Karen White is a New York Times and USA Today bestselling author and currently writes what she refers to as 'grit lit'—Southern women's fiction—and has also expanded her horizons into writing a mystery series set in Charleston, South Carolina. She is a graduate of the American School in London and has a BS in Management from Tulane University. When not writing, she spends her time reading, scrapbooking, playing piano, and avoiding cooking. She had two grown children and currently lives near Atlanta, Georgia with her husband and two spoiled Havanese dogs.
Date and time
Location
Rough Point
680 Bellevue Avenue
Newport, RI 02840
Refund policy
Contact the organizer to request a refund.
Eventbrite's fee is nonrefundable.