The Legacy of Menachem Begin: Israel's Future Challenges and Opportunities
Description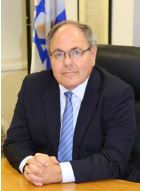 The Legacy of Menachem Begin:
Israel's Future Challenges and Opportunities
KEYNOTE SPEAKER
Ambassador Dani Dayan
Consul General of Israel in New York
As Consul General of Israel in New York, Ambassador Dayan represents the State of Israel throughout New York, New Jersey, Pennsylvania, Ohio and Delaware. Born in Buenos Aires, Argentina, he is the first Hispanic Consul General of Israel in New York. Ambassador Dayan has established a reputation as an Israeli public figure, lecturer and entrepreneur. Before his diplomatic career, he founded the high-tech company Elad Systems in 1982 at the age of 26, and served as its CEO and later as Chairman of the Board. In 2005, when Dayan sold his interests in the firm, it employed 500. From 1990-1992, he served as the general secretary of the Techiya political party. Dayan holds a BS in Economics and Computer Sciences from Bar Ilan University and master's in Finance from Tel Aviv University.
SPACES ARE LIMITED. PRE-REGISTRATION IS REQUIRED.
Please RSVP by October 5, 2018.

Questions? Please contact Hilary Levine at levineh@ajc.org or 215.665.2300.
The Daniel Veloric Lecture Series is a series of lectures sponsored through an AJC grant from the Daniel Veloric Foundation that explore the unique traits common to great leaders as diverse as Dr. Martin Luther King, Jr., and Menachem Begin.