"The ITC: An Insider's View"-- A Public IP Lecture by Theodore R. Essex

Tuesday, October 15, 2019 from 6:00 PM to 7:30 PM (CDT)
Event Details
IP Lecture Series: "The ITC: An Insider's View"
 with Theodore R. Essex, Senior Counsel, Hogan Lovells
and former U.S. International Trade Commission (ITC) Judge
Tuesday, October 15, 2019 | 6:00 p.m.
Onsite registration begins at 5:30 p.m.

Room 1200A

CLE Credit: 1.5 hours (pending)
CLE credit is extended to Illinois attorneys only. Attorneys who need CLE from other states are welcome to apply to their jurisdictions on their own. The extension of CLE credit is subject to each state approval. Attorneys seeking CLE credit must sign in and out at the registration desk.

There is no cost to attend this lecture; however, registration is requested.
Closed-door roundtable with Judge Essex to follow.
Email cipl@jmls.edu for an invitation.

---
This lecture provides insight into one of the most consequential agencies of the U.S. Government for the enforcement of IP—the U.S. International Trade Commission (ITC). U.S. IP rights are estimated to be worth $5 trillion, or about a quarter of the U.S.'s gross domestic output. The ITC is at the epicenter of litigation for patent disputes—not only in the U.S. but also disputes originating between companies around the globe, adjudicating cases involving billions of dollars in product value. Section 337 of the Tariff Act of 1930 grants the ITC extraterritorial power to remedy unfair competition. In recent years, one in seven U.S. patent trials takes place at the ITC—more than in any district court. Unlike the courts, the ITC has jurisdiction based simply on the products being present in the U.S. ITC cases also move more quickly than the courts. These details present both important challenges and opportunities to stakeholders in the IP world.
---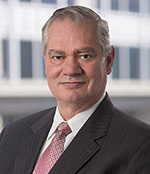 Theodore R. Essex
Senior Counsel
Hogan Lovells
About Theodore Essex
Theodore R. Essex joined Hogan Lovells as Senior Counsel after a decade of service as a U.S. International Trade Commission (ITC) judge. While at the ITC, Judge Essex was hailed as an unofficial ambassador to IP lawyers and judges in the U.S., Asia, and Europe, and has handled some of the most important Section 337 proceedings involving the world's most valuable and renowned companies. Before joining the ITC, he gained experience as a trial lawyer for the U.S. Air Force and as a trial attorney and public defender in Ohio. Judge Essex served as the president for both the Pauline Newman and Giles S. Rich American Inns of Court, the only individual to have done so. He is a registered solicitor in England and Wales. Judge Essex serves as Professorial Lecturer in Law at the George Washington University Law School. He has co-authored a chapter on ITC Mediation in the American Bar Association's (ABA) book. He currently serves as on the Board of Advisors for John Marshall's Center for Intellectual Property, Information & Privacy Law.

---
Consent For Video Recording:
This event will be recorded and may be later made publically available via the Internet. Participation in the event constitutes consent to be recorded, including without limitation by audio, video, and still images. Participants understand that such recordings may be distributed by means of a variety of media, formats, and contexts, and that this may occur during the event and thereafter. Participants waive all claims for any compensation and for any damages or other remedies in connection with such recordings and the use thereof.

Save This Event
When & Where

UIC John Marshall Law School
300 South State Street
Chicago, IL 60604


Tuesday, October 15, 2019 from 6:00 PM to 7:30 PM (CDT)
Add to my calendar