The Importance of Expression: How Language Processing and Sophistication Im...
Description
Language is the mechanism through which we make meaning of and interact with the world. It has long been established that how we use language greatly affects our relationships and our identities. Emerging research in neuropsychology further confirms this principle and is uncovering new aspects of how we process language. Not only does language processing ability help give our lives context but it affects the ability to critical think, express our thoughts and feelings, and even impacts the ability to regulate emotions. These new insights provide new perspectives on understanding how often concealed or compensation difficulties with processing impact learning and communication. This presentation will cover the important foundational aspects of language processing and development as they pertain to learning, critical thinking skills, emotional maturity and building relationships—the ultimate goals of the helping professions.
This free event is sponsored by Maine Township's MaineStay Youth & Family Services and Chicago Behavioral Hospital. It is appropriate for social service professionals and includes 2.0 free CEUs for social workers, professional counselors, marriage and family therapists, psychologists, and nurses. Continental breakfast will be available from 8:30-9:00 AM. Advance registration is requested as seating for this event is limited.

Attendees are encouraged to bring a non-perishable food item to donate to the Maine Township Food Pantry.
About the Presenter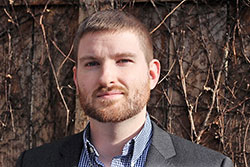 Garrett Hartman, MA, LPC is the Director of Training and Development at the Center for Identity Potential, a group counseling practice specializing in services for gifted and talented individuals. Garrett is a local and national speaker on subjects related to gifted population, language processing, and executive functioning skill development. He has trained with the Family Institute of Virginia on professional development and has received extensive instruction on how intelligence, language processing, and other neurodevelopmental issues affect the counseling process. Garrett's style as a counselor pulls no punches and his process is heavily based on advances in neuropsychology and neuropsychological testing. His particular passion is facilitating process groups with a focus on learning skills in pragmatic self-expression and management of complicated group dynamics. In addition to group and individual therapy, Garrett also conducts psychoeducational consultations for families and school staff on understanding neuropsychological principles and testing in pursuit of creating effective interventions.


This program is recognized by IDFPR as providing CEUs for LPC/LCPC and LSW/LCSW under license number 159.001334, LMFT under license number 168.000223, LCP under license number 268.000070, and RN/LPN/APN under license number 236.000127.