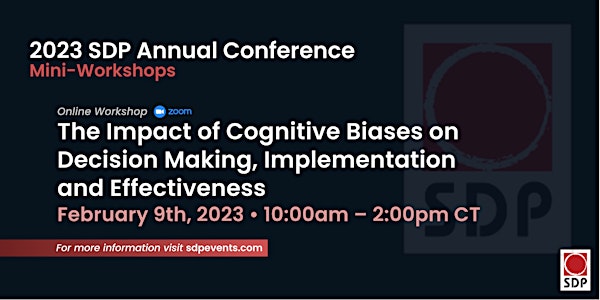 The Impact of Cognitive Biases on DecisionMaking, Implementation & Effect
Society of Decision Professionals Pre Conference Online Mini-Workshop
Refund Policy
Contact the organizer to request a refund.
Eventbrite's fee is nonrefundable.
About this event
The Impact of Cognitive Biases on Decision Making, Implementation and Effectiveness Instructors: Marcelle Bernard
A sought-after International Speaker and Author,  Marcelle Bernard has delivered communication programs to 20K adults & confidence programs to over 500K youth, in Australia, New Zealand, India, Japan and Bangkok.
***Workshop will be presented LIVE (Recording will not be available for later viewing)
Course Syllabus
Multi Criteria Decision Analysis evaluates multiple, complex and often conflicting criteria presented by a variety of individual stakeholders and stakeholder groups, as part of the decision-making process. Whether stakeholders present as individuals or as groups with a shared agenda, they are subject to the typical array of cognitive biases. The diversity of stakeholders contributes both to the variety of criteria, the range of options to be considered and the impact of unrecognized cognitive biases. 
The usefulness of effectively engaging with stakeholders in the Multi Criteria Decision Analysis process has been recognized as fundamental to the robustness of any decision and to the success of decision implementation and longevity. While the practice of Multi Criteria Decision Analysis has expanded and commitment to stakeholder engagement has grown, the impact of a variety of cognitive biases on the criteria and options being considered and, on the persons, making the final decision is not well represented in the literature. 
Content
This course considers the overall influence of cognitive bias on final decision outcomes, including
The impact  on stakeholders' participation as individuals or group members, in the Multi Criteria Decision Analysis process. 
The impact on criteria weighting in the Multi Criteria Decision Analysis process.
The impacts regarding the effective implementation of the decisions made.
Course activities include developing situation-based structures for recognizing biases, interrupting situations vulnerable to bias and feedback measures to ongoing reverse any intrinsic or systemic hidden biases.