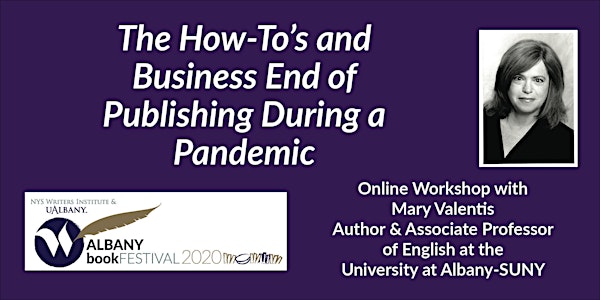 The How-To's and Business End of Publishing During a Pandemic
Learn the required steps to research the market, find an agent via querying, and get published in the changing world of book publishing
About this event
Workshop will be conducted on Zoom--link will be sent to workshop participants closer to the event date.
The publishing industry, both academic and commercial, has also been affected by the pandemic, especially those agents and publishers at the center of the action, those who live in NYC or its environs. Book contracts have been cancelled, book tours dumped, editors are home, their assistants and slush pile readers collecting unemployment. The good news is that agents and editors are at home reading, forced inside to shut down, but still trying to find new voices, novel ideas, and replacements for the projects lost in our brave new world. Today my aim is to guide you through the required steps to research the market, find an agent via querying, provide tons of information, examples, and then through the chat function answer your questions about specific ideas for books and the steps you need to take to realize that you too can produce a mass appeal memoir, a piece of fiction, or non-fiction to work on this fall and in the coming year.
Mary Valentis is an associate professor of English and director of a humanities center at the University at Albany-SUNY. She is the author or co-author of The American Sublime, Essays in American Poetry; Techknowledgies: New Imaginaries in the Humanities; Female Rage: Unlocking Its Secrets, Claiming Its Power (Clarkson Potter Publishers); Brave New You (New Harbinger Publications); and Romantic Intelligence, How To Be As Smart In Love As You Are In Life (New Harbinger Publications, 2003). Her writing has also appeared in Self, New Woman, and Cosmopolitan, as well as in scholarly journals and collections. She has just finished a biographical fiction novel on Edith Wharton.
Mary has made guest appearances on national television and radio shows and presents seminars in New York and San Francisco with her psychologist husband. She teaches courses in American Literature and Culture, Visual Culture, Film and Psychoanalysis, and Creative Writing. She co-produced two city-wide events: Why Melville Matters Now and A Celebration of the James family, and co-wrote and directed a documentary film The Albany Mummies shown on PBS.