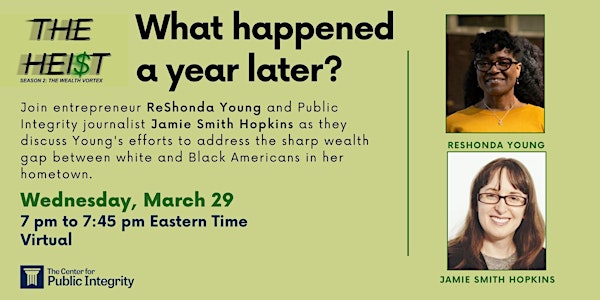 The Heist 2 Live: What happened a year later?
Entrepreneur ReShonda Young and CPI journalist Jamie Smith Hopkins discuss Young's efforts to address the wealth gap in her hometown.
By Center for Public Integrity
Date and time
Wednesday, March 29 · 4 - 4:45pm PDT
About this event
Join the Center for Public Integrity for a live conversation about the sharp wealth gap between Black and white Americans on Wednesday, March 29 from 7 pm. to 7:45 pm (Eastern). The conversation features ReShonda Young, the subject of "The Wealth Vortex," Public Integrity's award-winning second season of The Heist podcast. Jamie Smith Hopkins, the podcast's host, will moderate.
"The Wealth Vortex" — produced in partnership with Transmitter Media — followed Young's efforts to open what would be her state's only Black-owned bank, and the first nationwide in more than 20 years. Hopkins will check in with Young one year later to see how her efforts have progressed as she seeks local solutions to this entrenched national problem.
Young is an entrepreneur from Waterloo, Iowa, who started and franchised a popcorn business before selling the company in 2019. She's the director of an accelerator that supports Black business owners in Waterloo and is the leading force behind the planned Bank of Jabez.
Hopkins, an editor and reporter, joined Public Integrity in 2014 after 15 years at The Baltimore Sun. The Wealth Vortex is a finalist at this year's Ambie Awards, often called the Oscars of podcasting. The project is also a Signal Awards silver award honoree and second-place winner of the Shaufler Prize in Journalism.
In the live discussion, Young will share updates about her progress in the year since the podcast aired, discuss community-focused actions to increase equity and answer listeners' questions.
Participants can attend virtually and participate in Q&A at the end of the discussion.
Read the stories here, and listen to The Heist wherever you consume podcasts.

Public Integrity seeks to counter the corrosive effects of inequality by holding powerful interests accountable and equipping the public with knowledge to drive change. We are an independent, nonpartisan and nonprofit news organization dedicated to investigating systems and circumstances that contribute to inequality in our country.