The Happy Healthy Nonprofit: Strategies for Impact without Burnout
Description
The Rutgers Institute for Ethical Leadership welcomes Beth Kanter to the Nonprofit Capacity Building Series 2017 People's Choice Day. Beth is well known with 30 years working in the nonprofit sector on technology, training, capacity building, evaluation, fundraising, and marketing.

People's Choice Day gives local nonprofit organizations the chance to meet wildly popular nonprofit leadership and development experts in our own backyard. With a combined total of over 1 million Twitter, LinkedIn, and Facebook followers/fans, Beth Kanter is surely a major influencer in the field and a name known around the world. We are thrilled to host Beth for a full day of capacity building workshops on organizational culture, work/life balance, and minimizing burnout in a demanding sector. Any Nonprofit Emerging, Executive, or Board level leaders are welcome to register!
Registration includes:
A full day with two workshops lead by author and nonprofit expert Beth Kanter, a copy of Beth's newest book, "The Happy Healthy Nonprofit," program materials, networking, a light breakfast, and lunch! Limited free on-site parking also available.

All participants get a free copy of Beth's newest book with registration!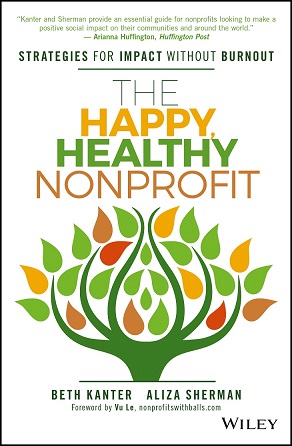 Agenda:
9:00am - 9:30am Registration, Light Breakfast, and Networking
9:30am - 12:30pm The Happy Healthy Nonprofit Workshop
12:30am - 2:00pm Lunch and Networking
2:00pm - 4:00pm Technology Wellness Workshop
4:00pm - 4:15pm Closing
Morning Session: The Happy Healthy Nonprofit Leader: Strategies for Impact without Burnout
The passion that people who work for nonprofits feel for their work is a double-edged sword. On the one hand, that fervor helps them keep going in the face of difficult challenges, especially in the early stages of their careers. On the other hand, they can be so driven they don't stop to refuel or smell the proverbial roses or even notice they are experiencing symptoms of burnout. Based on their new book, The Happy Healthy Nonprofit: Strategies for Impact without Burnout, internationally acclaimed author and trainer Beth Kanter will present an interactive workshop where participants will:
Take a self-assessment to determine burnout symptoms and opportunities to create self-care habits
Share tips and methods for self-care activities that go beyond physical health
Share strategies for bringing a culture of wellbeing into your nonprofit workplace
Afternoon Session: Technology Wellness for Nonprofit Professionals
Social media and working online doesn't have to be overwhelming; you can take back control. This workshop explores personal productivity techniques, including the use of attention training and visualization, to combat distraction. It will also cover conscious computing tools and apps that can help lengthen your attention span and replace information overload with a sense of mindfulness. The tips and tools, once you put them into practice, will help you achieve more in less time and ultimately increase your focus and wellbeing.
Based on the ideas in The Happy Healthy Nonprofit: Strategies for Impact without Burnout, internationally acclaimed trainer and author Beth Kanter will lead this fun, interactive workshop where you will learn:
To assess and reflect on how we use technology for work to recognize our own patterns of distraction and addiction and how to change them
To provide best practices and techniques for taming the digital jungle that assaults our brains every day via email, social media, and online
To identify ways to encourage technology wellness in our workplaces
Join our mailing list to learn more about future series events.
This event is made possible with the generous support of our funders: