Description
The GridWise Alliance, with General Electric (GE) Grid Solutions and Intel, is hosting a free industry workshop to develop a methodology for characterizing smart devices ability to provide valuable grid services. This workshop will be held in Atlanta, GA on March 21 and March 22 at the GE Grid Solutions Grid IQ Center and will facilitate collaboration between equipment manufacturers, grid services providers and utilities that is necessary to define, build and encourage widespread intelligent device adoption that will make our power grid more sustainable, efficient and resilient.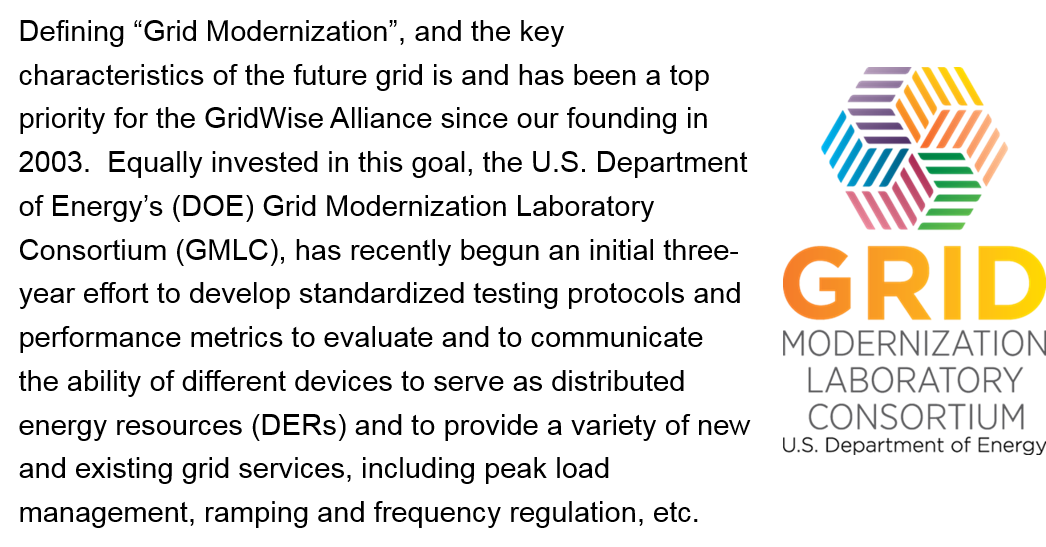 Who Should Attend?
DER device manufacturers

Electric utility service providers

Grid Independent system operators (ISOs) and regional transmission system operators (RTOs)

Regional energy efficiency organizations (NEEA, NEEP, etc.)

Other industry organizations (AHRI, AHAM, ACEEE, CEE, NEMA, etc.)
At this meeting PNNL will lead a discussion on a "Recommended Practice" aka a voluntary standard for rating distributed device's (DERs) ability to provide a broad range of grid services.
The Goal of this event is to collect your feedback - - Take a minute to Check out the Recommendation's Website for yourself!

---
Expected Outcomes of Characterizing Devices Performance of Grid Services:

Reward innovation by device/system/controls manufacturers by helping them understand grid service opportunities to enlarge device markets and providing recognition for product performance and potential value

Validate performance models and value for grid operator decisions on purchases, incentives, markets, programs and planning/operating strategies

Independently validate information for consumers and 3rd parties for device purchase decisions so that manufacturers can effectively communicate their products' value
Long-term Goal of the Device Characterization Initiative:

Create simple, low-cost testing protocols and metrics that manufacturers can use to characterize their equipment's performance and potential value in providing a standard set of existing and new grid services.
The workshop's purpose is to update stakeholders of the DOE's recent efforts to develop draft characterization test protocols and metrics that describe DER devices' ability to provide important grid services, as well as, how these parameters can be used in a standardized model to understand the performance and value of these DERs at scale. In addition, different industry groups can learn from one another in specific break-out sessions how different devices will be evaluated, what data are required to evaluate the device's ability to provide grid services, and what the requirements are for providing various grid services.
---
The GridWise Alliance sponsored a one-hour webinar introducing the scope and technical approach of the Grid Modernization Laboratory Consortium's Characterization Initiation. This webinar provided the context for the initiative, outlined its scope, goals and objectives, and introduced the methods being proposed for its construction.
It was a great way to understand the relevance of this initiative to your organization and prepare your input and perspectives for the workshop!