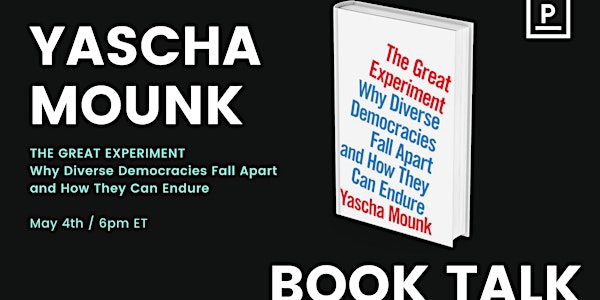 The Great Experiment: A Persuasion Book Talk with Yascha Mounk
Join Persuasion for a talk with Yascha Mounk on his book, The Great Experiment: Why Diverse Democracies Fall Apart and How They Can Endure
About this event
Yascha Mounk is the founder and editor-in-chief of Persuasion, and one of the world's leading experts on the crisis of liberal democracy and the rise of populism. His new book is The Great Experiment: Why Diverse Democracies Fall Apart and How They Can Endure. He is also Associate Professor of International Affairs at Johns Hopkins University and contributing editor at The Atlantic.
Join the Persuasion community for a book talk with Mounk, whose optimistic case in a pessimistic time posits how western liberal democracies can solve their internal divisions and emerge stronger, and more aligned with their values, than before.
Event link available after registration.
Persuasion members registered for the event will be entered into a random drawing for a limited number of signed copies of the book.