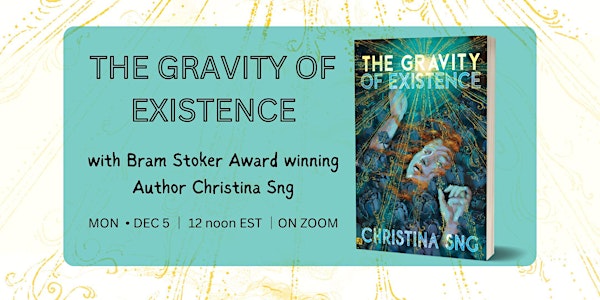 The Gravity of Existence Book Launch Party FREE ONLINE
Join Interstellar Flight Press for an online launch party for Christina Sng, author of The Gravity of Existence, online via Zoom
About this event
Event Details:
Online via Zoom
​by Christina Sng
A collection of tiny terrors from Bram Stoker Award ® winner Christina Sng. The Gravity of Existence is a weight lifted, a monster freed, a princess with sneakers, a spell for a better world. From one of the leading voices in dark verse, this collection delights in the misunderstood, putting a new spin on werewolves, basilisks, sirens, ghosts, aliens, pandemics, fairy tales and myths. Sng gives new voice to classic heroines and the result is terrifying, magical, and fantastic.
About the Author
Christina Sng is an award-winning poet, writer, essayist, and artist. Her work has appeared in numerous print and online venues worldwide and is translated into six languages. She is the author of A Constellation of Songs (Origami Poems Project), Catku (Allegra Press), 2017 Elgin Award nominee An Assortment of Sky Things (Allegra Press), 2018 Elgin Award runner-up Astropoetry (Alban Lake Publishing), 2017 Bram Stoker Award® winner A Collection of Nightmares (Raw Dog Screaming Press), 2020 Bram Stoker Award® winner and 2021 Elgin Award runner-up A Collection of Dreamscapes (Raw Dog Screaming Press), and the collaborative poetry collection Tortured Willows with Lee Murray, Gene Flynn, and Angela Yuriko Smith.
Since 2001, her science fiction, horror, and fantasy poetry and fiction have been published across North America, the United Kingdom, Australia, and Singapore. These include Andromeda Spaceways Inflight Magazine, Aoife's Kiss, Apex Magazine, Astronomers Without Borders, Bare Bone, Beyond Centauri, Black Petals, Blood Rose, Bloodbond, ChiZine, Daily Science Fiction, Dark Animus, Disturbed Digest, Dreams and Nightmares, Electric Velocipede, Eye to the Telescope, Fantastic Stories of the Imagination, Flesh & Blood, Grievous Angel, Hadrosaur Tales, Heroic Fantasy Quarterly, Illumen, The Journal, Jupiter Magazine, LONTAR, Lunatic Chameleon, The Martian Wave, Mythic Delirium, NewMyths.com, Night to Dawn, Outposts of Beyond, The Pedestal Magazine, Penny Dreadful, Penumbric, Poe Little Thing, Polu Texni, Scifaikuest, Space & Time, Spaceports & Spidersilk, Spectral Realms, Star*Line, Story House, Tales of the Talisman, Trunk Stories, The Washington Post, Wicked Hollow, and Yellow Bat Review.
From late 2015, Christina began to study haiku, finding it immensely beautiful and therapeutic. She writes short form poems to document her thoughts and days. Her haiku, senryu, haiga, and tanka have since received numerous honours and accolades, including winning the 2018 Jane Reichhold International Prize and the Third Annual Jane Reichhold Memorial Haiga Competition. Her work has appeared all around the world in journals such as A Hundred Gourds, Akisame, Akitsu Quarterly, Asahi Haikuist, bear creek haiku, cattails, Cricket, Failed Haiku, Frameless Sky, Frogpond, Haikuniverse, Haiku Masters, hedgerow, Mayfly, otata, Prune Juice, Ribbons, Shamrock, The Bamboo Hut, The Cicada's Cry, and Wild Plum, among others.