The "GOOD VIBES ONLY" • INTERACTIVE INCLUSION EXPERIENCE powered by FYM
LABOR DAY WEEKEND: The Day Party With A Positive Purpose... GOOD VIBES ONLY-INTERACTIVE INCLUSION EXPERIENCE powered by The FYM Forum
About this event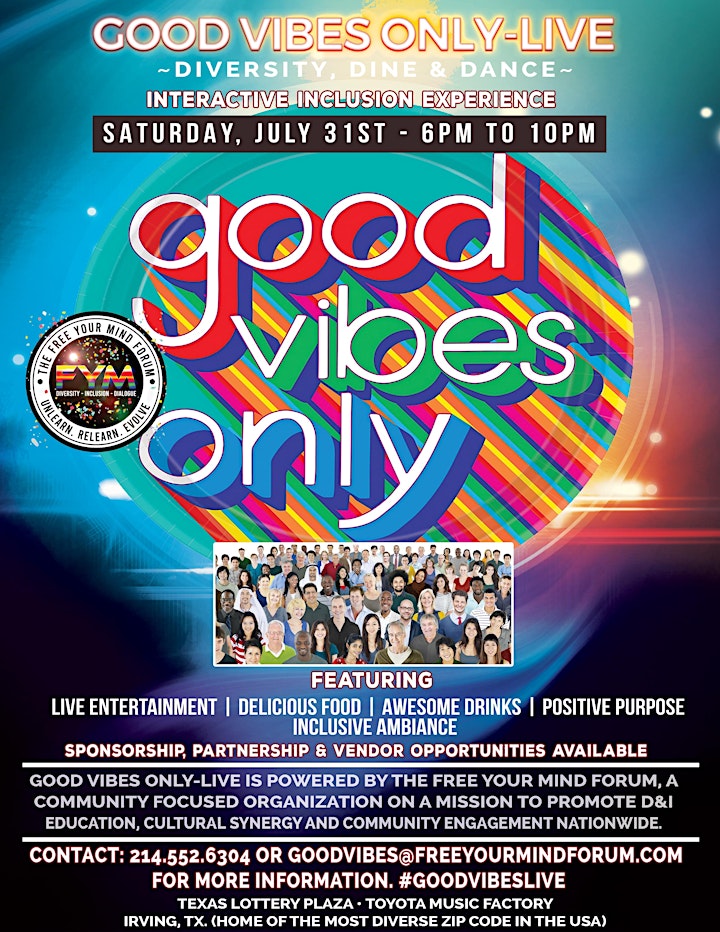 UPDATE: THIS EVENT HAS BEEN RESCHEDULED FOR LABOR DAY WEEKEND!
SUNDAY, SEPTEMBER 5TH 2021!!!
INTRODUCING A Day Party With A Purpose...
The FREE YOUR MIND Forum cordially invites you to "GOOD VIBES ONLY"- INTERACTIVE INCLUSION EXPERIENCE promoting Diversity, Cultural Synergy & Community Engagement Nationwide.
In line with our mission, we've organized an exciting program to showcase amazing artists who will perform along positive community collaborative themes.
GOOD VIBES ONLY will now take place SUNDAY, SEPTEMBER 5TH 2021 on The Texas Lottery Plaza @ Toyota Music Factory, 5pm to 10pm.
This summer evening showcase will include Exciting Vendors, Interactive Music and Electric Dance Performances by artists of various ethnicities, genres, backgrounds and fields.
The Free Your Mind Forum -"Good Vibes Only" encourages a safe, inclusive environment that supports the power of music, beauty of diversity and amplifies the call for social healing.
For more information, please visit http:// www.freeyourmindforum.com or GOOD VIBES ONLY at https://www.facebook.com/Good.Vibes.Only.Tribe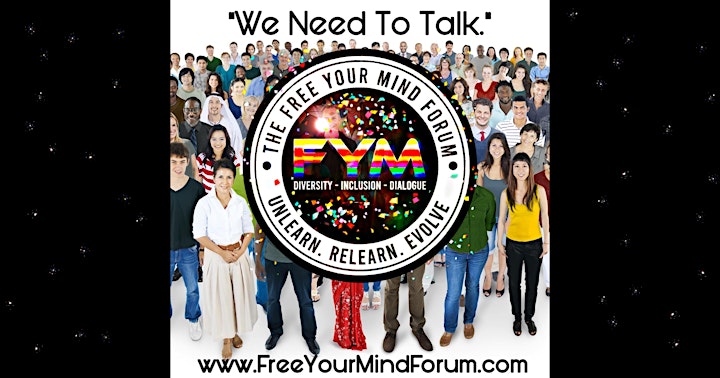 LOCAL & NATIONAL SPONSORSHIP/PARTNERSHIP OPPORTUNITIES AVAILABLE
On behalf of 'The Free Your Mind Forum, Inc." we would like to invite your organization to become a Sponsor/Partner of the "GOOD VIBES ONLY" Inclusion Event.
Your participation will reinforce our collective mission of championing Diversity, Equity & Inclusion both inside and outside of the workplace and allow us to positively impact a maximum number of a people.Our goal is to deliver a culturally inclusive, entertaining, "feel good" experience which will spark the journey to cultural awareness, understanding, respect & collaboration.
Benefits of partnership include:
Unique Sponsorship Customizations
Diversity & Inclusion Cause Affiliation
Grass-Roots Community Engagement
Wholistic Advertising and Marketing -AND_
An opportunity to present to pre-assembled traffic by your organization's representative.
Contact our team today for more information: GoodVibesOnly@FreeYourMindForum.com or 214-552-6304
GOOD VIBES VENDOR VILLAGE
Standard Vendor Space (10 x 10) / Custom/Premium Vendor Space (Contact Us)
No Sales Of Food, Drink, Good Vibes/Free Your Mind Merchandise or Illegal Substances Are Allowed. (Please Review Vendor Rules & Restrictions Agreement Before Securing Vendor Reservation.)
$50 for a standard space (must bring own table, chairs, no electricity)
$100 for standard space and a table (must bring own chairs, no electricity)
All vendors must register and pay on Eventbrite, and are responsible for everything they bring and sell.
Deadline for Vendors: August 15, 2021.
Contact our team today for more information: GoodVibesOnly@FreeYourMindForum.com or 214-552-6304
Organizer of The "GOOD VIBES ONLY" • INTERACTIVE INCLUSION EXPERIENCE powered by FYM