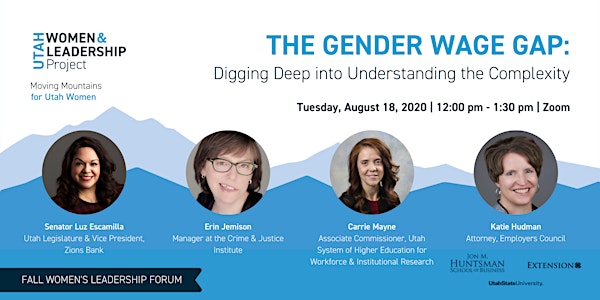 The Gender Wage Gap: Digging Deep into Understanding The Complexity
Join us and get the real scoop on the gender wage gap in Utah. Dig deep to understand the complexity and what Utah can do to change.
About this event
The Utah Women & Leadership Project at Utah State University invites you to join us for our first Women's Leadership Forum of the academic year. It is a panel discussion (see bios below) focused on understanding the wage gap issues in Utah. The gender wage gap is a persistent concern in the United States, where women make about 82% of what men make for comparable work. And the numbers in Utah are more extreme, where a woman earns approximately 71 cents for each dollar a man earns. In fact, year after year, Utah is consistently near the bottom of national rankings in terms of gender pay equity. Although the existence of the wage gap is indisputable, many try to discount it or attribute the entire gap to "women's choices."
In reality, the wage gap is deeply complicated, with dozens of contributing factors, including educational attainment, recruiting practices, negotiation success, hours worked, occupational segregation, and unpaid care work, not to mention unconscious bias and plain-old sexism. Our panel of experts will discuss some of the most important contributing factors, dig deeper into how the gap varies by race and other demographics, and evaluate major efforts to reduce the wage gap, including both private and public initiatives. Join us for what is sure to be a fascinating discussion of this critical issue, one that affects not just women, but families, communities, our businesses, and the state as a whole.
SPONSORS: Jon M. Huntsman School of Business, Utah State University & the Utah Education Network (UEN)
PANEL MODERATOR: Dr. Susan R. Madsen, Director, Utah Women & Leadership Project; Inaugural Karen Haight Huntsman Endowed Professor of Leadership, Jon M. Huntsman School of Business, Utah State University
PANELIST BIOS
Katie Hudman is an attorney with Employers Council, a membership association providing employment law and HR services to employers. Her passion is preventing a company from being sued. To that end, she has spent much of her career training company leaders and HR professionals on various employee management principles such as effective employee discipline and documentation, as well as legal compliance obligations under employment laws covering topics such as discrimination, harassment, family and medical leave, overtime pay, drug testing, and disability accommodations. Prior to joining Employers Council, she worked as an attorney at the law firm Kirton & McConkie. Hudman has a bachelor's degree of political science and a double minor in communications and legal studies from Weber State University. She also has a law degree from the University of Utah College of Law and has PHR and SPHR certification credentials from HR Certification Institute.
Senator Luz Escamilla holds a Bachelor of Science degree in Business Marketing and a Master's degree in Public Administration from the University of Utah. On November 4, 2008, Luz was elected to the Utah State Senate representing Senate District 1, becoming the first Latina elected in the Utah State Senate and the first immigrant elected in the Utah State Legislature. She is serving her third term in the Utah State Senate after being reelected in 2012 and 2016. Senator Escamilla serves in the senate leadership team as the Senate Minority Whip. In 2005 she was appointed by Governor Jon Huntsman as the first Director for the State Office of Ethnic Affairs. In this position, she oversaw the Directors of Asian, Black, Hispanic/Latino and Pacific Islander Affairs. She currently works as Vice President for Zions Bank in the Community Development Group representing Zions Bank in community and business relationships across the state of Utah and Idaho. At Zions Bank, she has worked as Director for the Business Resource Center, as well as the Hispanic/Latino Market Manager. She has served in many capacities in different boards of nonprofit organizations and other agencies. She currently serves on the boards of Girls Scouts of Utah, Primary Children's Hospital, Rowland Hall, Days of '47 Rodeo as well as the Women in the Economy Commission. Senator Escamilla has been honored with a host of recognitions and lives with her husband Juan Carlos and children in Rose Park, Utah.
Carrie Mayne is the Associate Commissioner for Workforce and Institutional Research. Formerly, Mayne was the Chief Economist and Director of Workforce Research and Analysis at Utah's Department of Workforce Services, where she was employed for 14 years. She and her staff produced a wide array of tools to aid the public in understanding the state's workforce. Mayne is a member of the Utah Economic Council and the Governor's Child Support Guidelines Advisory Committee. She holds a bachelor's degree in economics from the University of Utah and is working toward completing her doctorate in the same field. Her areas of expertise include labor economics, econometrics, and statistics.
Erin Jemison is a Manager at the Crime and Justice Institute (CJI), a division of Community Resources for Justice (CRJ) based in Boston, MA, overseeing state legislative projects as part of the national Clean Slate Initiative to improve criminal justice policies and practices. She previously served as the Director of Public Policy at YWCA Utah, advocating for statewide change benefiting Utah women and overseeing a nonpartisan initiative to empower and train women to serve in political office and civic leadership. Erin relocated to Utah after leading the Colorado Coalition Against Sexual Assault (CCASA) as their Executive Director, where she also served as Chairperson of the Colorado Sex Offender Management Board. She also has over a decade of experience working directly with survivors of sexual and domestic violence. Erin has a Bachelor's in Sociology with a concentration in gender studies from William Smith College, and a Master's in Public Administration from Montana State University where her graduate research focused on state-level policy initiatives to address the gender wage gap. She lives in Salt Lake City, Utah, with her husband (Joel), dog (Frannie), and cat (Rosie).