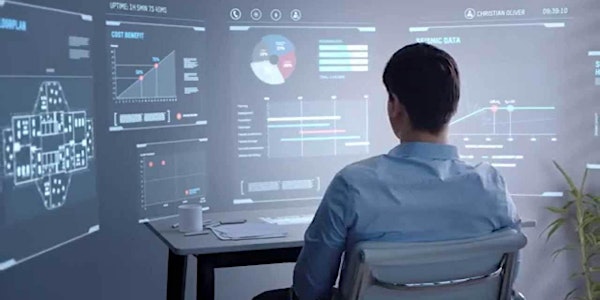 The Future of Work - at the Precipice of a new World Order
A distinguished panel of experts will discuss the Future of Work from the small business perspective
When and where
Location
Lakewood Country Club 13901 Glen Mill Rd Rockville, MD 20850
Refund Policy
Refunds up to 7 days before event
About this event
Future Work: Employment in the 21 Century
Presentation and Panel Discussion
Willis Towers Watson (now WTW)
We are at the beginning of the Fourth Industrial Revolution, one that promises to alter the world of work permanently. Is your organization prepared?
The exponential rise in computing power is transforming work in significant ways, blurring lines between the physical, digital and biological worlds. Breakthroughs in areas such as artificial intelligence and robotics are dramatic compared to those in previous revolutions. They are already disrupting industries globally, having a significant impact on work and jobs. The effects range from significant job creation to job displacement, from heightened labor productivity to a widening skills gap.
Steven Suissa, owner, SHS Payroll
As President and owner of SHS Payroll, Steven offers comprehensive business Payroll services to help keep your business operate at its peak efficiency and profitability. We provide exceptional payroll and business consulting services to small and mid-sized companies in the MD, DC and Northern VA areas. Opened in 2002 by its President Steven Suissa, SHS Payroll is in its 20th year of service to our region providing "class A" service to its customers at competitive rates.
Meredith Campbell, Shulman Rogers
Meredith ("Merry") Campbell serves as a business advisor to local, national and global clients who look to her for counsel on managing their most important asset — their employees. Clients hire her because she successfully resolves workplace-related issues while helping them to maintain a positive and productive workplace.
NABOE Platinum Sponsors
Click to learn more about each Sponsor
Analytic Design (Tanya Amaya, Branding & Web Design)
Atigro (Ken Fischer, SEO Services)
IBAA (Alan Schulman, Insurance)
SHS Payroll (Steven Suissa, Payroll Services)
Shulman Rogers (Lane Hornfeck, Corporate Law)
CEO Focus (Ron Wills, CEO Coaching & Mastermind Groups)
Changeover Media (JJ Gagliardi, Digital Video Content)
NABOE Business Memberships Powered by CEO Focus
About the National Association of Business Owners & Entrepreneurs
NABOE is an association of business owners and leaders who have in common their desire to learn, grow and better themselves and their organizations. NABOE serves its members by bringing thought leaders, contemporaries and vetted resources together in high-end, respectful educational settings. NABOE offers presentations helping leaders change and direct their companies grounded in science based programs and solutions.
Please note: We respect the privacy of the individuals who attend our programs and have a strict "no solicitation" policy. See below:
Relaxed Networking: We pride ourselves on having relaxed networking events where our C level participants feel comfortable. Programs offered by the National Association of Business Owners & Entrepreneurs have a strict, no solicitation rule. Violations of this no-solicitation rule are immediately removed from our membership rolls and will not be allowed to attend future events. It is up to the discretion of the Membership Committee if an individual will be reinstated.