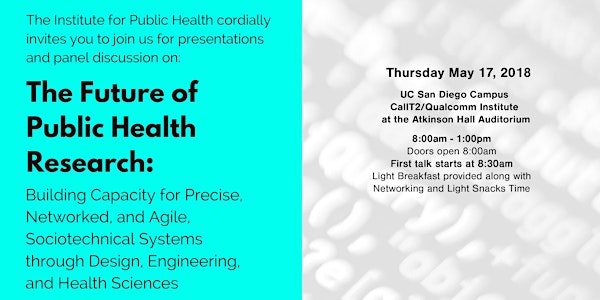 The Future of Public Health Research
Location
Qualcomm Institute - Calit2 Auditorium
Atkinson Hall - UCSD
9500 Gilman Dr.
La Jolla, CA 92093
Description
Examine the changing landscape of public health research from across perspectives in health sciences, design, and engineering.
This work is being supported by the IPH Technology and Health working group. The event is intentionally targeting breadth of topics over depth such to help the UCSD and broader San Diego see the forest from the trees related to this important topic.
---
AGENDA
8:00a-8:30a | Light breakfast/coffee
8:30-8:45a | Introductions & Setting Stage for event
Speaker: Eric Hekler
8:45a-9:30a | Why does public health research need to change?
Speakers: Larry Smarr, Doug Ziedonis, Cheryl Anderson; Moderator: Mike Pratt
9:30a-10:15a | What is needed from design, engineering, and health sciences to transform public health?
Speakers: Don Norman, Geert Schmid-Schobein, Pedja Klasnja; Moderator: Kevin Patrick
10:15a-10:30a | Networking & Light Snacks
10:30a-11:15a | Who needs to be involved in this transformation?
Speakers: Dana Lewis, Cinnamon Bloss, Eliah Aranoff-Spencer; Moderator: William Griswold
11:15a-12:00p | How are we going to do this to support equitable, positive improvements to public health
Speakers: Lara Mangravite (SAGE), Camille Nebeker, Mike Pratt; Moderator: Jenni Vanos
12:00p-1:00p | Tying it together, Open Discussion, & Next Steps
Speaker: Eric Hekler