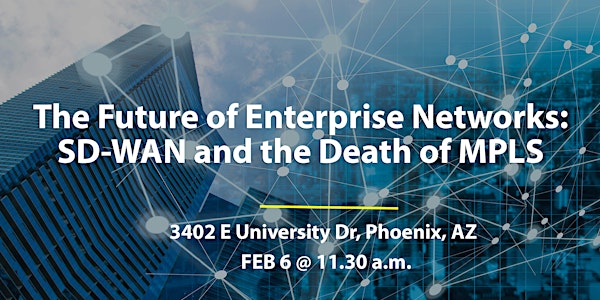 The Future of Enterprise Networks: SD-WAN and the Death of MPLS
phoenixNAP and Cogent to discuss SD-WAN deployment best practices and the future of enterprise networking
When and where
Location
phoenixNAP Data Center 3402 East University Drive Phoenix, AZ 85034
About this event
Multiprotocol Label Switching (MPLS) is a foundation of many enterprise WAN architectures. While its scalability and performance potential offer significant benefits, software-defined WAN (SD-WAN) has emerged as a more flexible, secure, and easy-to-deploy alternative. As such, SD-WAN is becoming more widely adopted in modern enterprises and new standards are being introduced for its deployment.
Learn more about SD-WAN deployment best practices and the future of enterprise networking at our Lunch and Learn with Cogent! As a global leader in enterprise network solutions, Cogent provides connectivity in 44 countries, is available in over 1200 Carrier Neutral Data Centers, and is peered with over 6800 networks. 1 of only 4 global networks prepared for the terabit age.
On February 6th, the representatives of Cogent, Cisco, and phoenixNAP will offer their perspective on the evolution of network technologies and industry trends. The key focus will be on SD-WAN, an emerging software-defined solution that will change the way organizations manage and deploy their networks. The event will also discuss the state of MPLS and the reasons why it may become obsolete in future.
The talk will cover:
- The state of enterprise networks
- SD-WAN vs. MPLS technology comparison
- Predictions for the future of enterprise networks
- Best practices for SD-WAN Implementation
- Cogent network solutions overview
Register today to join us!
One of the attendees will be selected for a special prize – Kindle Paperwhite e-Reader.