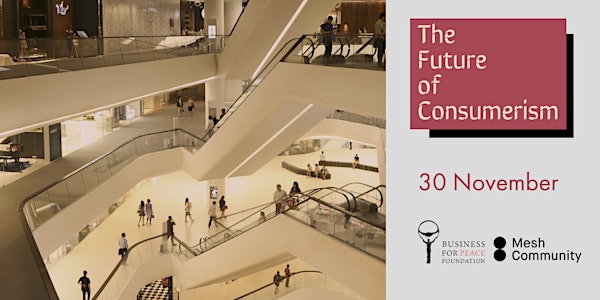 The Future of Consumerism
Join us for a conversation on the Future of Consumerism
When and where
Location
MESH Youngstorget 6 Møllergata 0179 Sentrum Norway
About this event
You can also join us digitally and watch the livestream in the following link:
https://digs.webex.com/digs/j.php?MTID=m268ac21fbf94ffafa966fcd0cfe4e530
-----
With Black Friday and Christmas around the corner, it is difficult to remain a conscious consumer. To break the cycle of over-consumption within the linear economy, a circular approach is needed. This would entail fixing products, prolonging their life-span, and avoiding waste at all costs, making it the way forward for a healthy planet with healthy humans.
How can companies tackle the negative impacts of consumerism while running a successful business model? How can supply chains become more sustainable and transparent for consumers to trace the products they are acquiring? And what does the future of consumerism look like?
In this panel we will bring together professionals from different fields to explore these and other key questions to understand in what ways we can all become conscious consumers and what businesses are doing to clear the path.
Join us on November 30th (18:00-19:15). The event is in English and free to attend physically or online!
-----
Speakers:
Moderator: Fredrik Nordbø, Senior Policy Advisor, WWF
Heidi Furustøl, Executive Director, Ethical Trade Norway
Jo Egil Tobiassen, CEO, Northern Playground
Aasa Andersen, Managing Director, A-Packaging
-----
Venue
This event will be hosted at Mesh Youngstorget, the newest HUB from Mesh. Stick around after the event to explore the new venue and enjoy the Workbar!
The Workbar is the heart of Mesh HUBs, connecting members with each other, the greater community and the public. A place for you to meet, work, connect, be inspired, eat and drink.
-----
Schedule
17:30-18:00 Doors open, come mingle and get settled
18:00-19:15 Talk and discussion
19:15-late Stick around and continue the conversation
For updates on the latest events, sign up for the Business for Peace newsletter here.
Having a ticket does not guarantee a seat at the main seating area. Doors open at 17:30, please arrive on time to secure your seat.