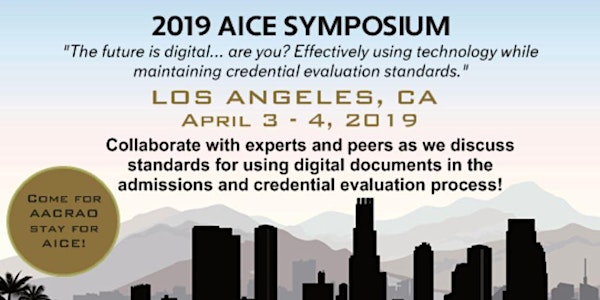 The Future is Digital...Are you? Effectively Using Technology While Maintai...
Event Information
Location
Millennium Biltmore Hotel
506 S. Grand Avenue
Los Angeles, CA 90071
Description
AICE 2019 Symposium - Los Angeles, CA
April 4, 2019
"The Future is Digital...Are You? Effectively Using Technology While Maintaining Credential Evaluation Standards"

The Association of International Credential Evaluators, Inc. (AICE) cordially invites to its 2019 Symposium to examine standards and best practices for using electronic transcripts and academic credentials in the admissions process, an imperative need as technology in our field is advancing.
AICE is the leading professional credential evaluation member organization whose members follow peer-approved standards and establish best practices for international credential evaluation. AICE is dedicated to collaborating about issues surrounding world education systems.
The 2019 Symposium will open with a reception at Tom's Urban at LA Live on April 3rd, followed by a full program of collaborating and presentations on April 4th held at the Millennium Biltmore Hotel.

TOPICS
The 2019 Symposium includes 3 panels of experts and a roundtable/breakout discussion covering the following topics:
"Legacy" Systems

Institutional & Privately-owned Digital Platforms

Government-owned Digital Platforms

Verification Tools
Benefits of Attending:
Learn what other institutions and credential evaluation services are doing regarding electronic transcripts


Compare strategies and best practices for staying up-to-date with rapid developments in the digital era

Review information on data technology and security

Learn how to adapt your policies and procedures to function efficiently in a digital environment

Examine the benefits but also the limitations for accepting electronic transcripts as official documents

Make projections on the future of academic credentials

Gather information on sources of online verification and how to search for new ones

Learn techqniues to use to verify authenticity of digital transcripts
CLICK HERE FOR PROGRAM & SCHEDULE
WHO CAN ATTEND?
All levels of experienced credential evaluation, immigration, and international admissions professionals are invited and welcome. Last year, we had record numbers of attendance with the attendees commenting that the Symposium was the best platform to meet their professional development needs. AICE is providing you direct access to the experts in the field and to global leaders.
AICE Endorsed and Affiliate Members will attend, as well as guest speakers from U.S. institutions of higher education, digital plaform providers, executives and senior evaluators from AACRAO, and international colleagues who will join our panels.
Enrich your professional development and join us for this excellent gathering of professionals.
Come for AACRAO, and stay for the AICE Symposium!
INTERESTED IN SPONSORSHIP
AICE welcomes organizations with shared interests in fostering international education exchange by offering variety of sponsorship and advertising opportunities. For more information, please click here
HOTEL INFORMATION
Reservations:
Millennium Biltmore: Online Reservations
If you are attending the AACRAO Annual Meeting and wish to stay at the hotels offering AACRAO's conference rates, check AACRAO's website for additional list of hotels.

Cut-off Date for Reservations AACRAO's Conference Hotels: Thursday, March 7, 2019.

This is a limited block of rooms and availability cannot be guaranteed. Early reservations are recommended.
Date and time
Location
Millennium Biltmore Hotel
506 S. Grand Avenue
Los Angeles, CA 90071
Refund policy