The first ICO of the Best Korean FinTech Company with new blockchain technology ; SECRET for making money easy and safe in ICO? My Credit Chain

Wednesday, May 2, 2018 from 7:00 PM to 9:00 PM (Singapore Standard Time Singapore Time)
Event Details
*Thanks to too many subscription to attend this event, we will serve the event twice at 2pm~4pm and at 7pm~9pm on the same day at the same location.
Please come to the event at 2pm  because 7pm event is full.
Please come up to 2nd floor to Wework reception to come to Meeting room 1A in Wework Beach centre,15 beach road
[Topic] 
Theme 1 : Secret: How to invest wise and safe in ICO's of New Cryptocurrency
There are so many ICO pjojects going on and on.  You might be confused among too much information around those projects. We can show you how to invest your precious money into a better project with peace in your mind. 
Theme 2 : How to get rewards for my own credit: You make money easy from your credit?!
Do you know that up to now someone else lawfully deprives you of chance to make money in return for giving consent for others to use your credit? You will get the chance to know how to make money from your own credit. It's easy and simple for you to get the rewards from your own credit.  There is no headache or scam.  Once you start it, you never stop getting rewards from your consent.
[Information]
1. Agenda
Date: May 2

 Time: 7pm ~ 9pm

Place: Singapore Wework BEACH CENTRE ROOM 1A
2. Lecturer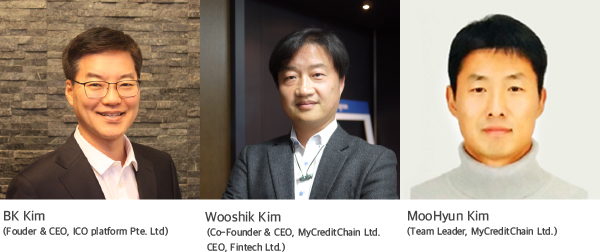 3. Contact
4. Host
ICO platform Pte. Ltd.

MyCreditChain Pte. Ltd. 
[More]
MyCreditChain(MCC) is a blockchain platform for personal credit information.
 MCC revolutionizes the process in how personal credit information is gathered and used. MCC can further revolutionize our interaction with one another on a global network.
First, MCC ensures that users to own their own information. MCC gathers data for individual owners with its "Data Gathering Technology" and safely stores it on the blockchain. Under the full control of each individual, the data is then ready to be searched and sold for potential data consumers.
Second, MCC democratizes the accessibility to personal credit information. MCC is a blockchain of big data containing personal credit information of all participants. Anyone or any company can come into MCC network and use the data with MCC tokens.
Third, MCC is a market network that contains both data owners and data users of personal credit information as well as product consumers and producers of financial and other products. Consumers and producers can meet each other with a pin point accuracy in MCC network. MCC will bring a market creating innovation for financial services.
 Lastly, MCC builds relationship and trust among people based on personal credit information. MCC airdrop enables participants to give gifts to one another and build relationship. In MCC network people can know each other's credit-worthiness before they do any transaction with each other.MCC will revolutionize our lives all together in one global world of blockchains, where human network is boundless and borderless.
Why Does MyCreditChain(MCC) Begin? Delivering Ownership of Credit Information to Individuals Modern society is based on credit. The most important element in a market economy is credit information. Credit information is a fundamental right that every human being should justly exercise. Our goal is to build a freer and fairer society by returning the ownership of credit information to individuals. That is why we created My Credit Chain
[Q&A]
Question: What is special about MyCreditChain Credit Information?
Answer :To know a person and to gauge his credit worthiness, MyCreditChain is looking at first his objective personal credit information. However, that is not enough. When we say we know a person, the most important information is 'who are the people around the person.' If I know your friends and families, would you try to cheat me? Your reputation is at stake. Our airdrop system is about mapping a user personal network. We give gifts to people we like/care/ want to get to know. Those are important people, and we don't want to risk our reputation.
Question: How can we make money on MCC network? And when? Who buys tokens after launching service? Are you working now with potential corporate buyers who need tokens for their business? You can tell with me who potential buyers are and any institutions are buying now or about to?
Answer : Everyone in the network makes money. First from selling their information and second from MCC airdrop.First, you must understand that personal information is most valuable information that runs economy. Everything we produce is to satisfy our needs and our preference. Personal information is the basic market information to find the consumers. Google, Amazon and Facebook are making great profit just because they have the big data to calculate everyone's preference. MyCreditChain will become the big data of personal information where the users themselves sell their own information. Every company wants that information. MyCreditChain is the marketplace of personal information, but it is also a marketplace for product marketing as well. Users will be paid to view Ad from companies. The Key here is to increase the user base to create the big enough data base. Our airdrop is totally designed for the mission. Airdrop of 10,000 tokens via gift giving with seed will make the user base grow tangentially. After all, all users will make money out their own information.We are living in the age of Global Internet connection. People need credibility information to trade in the global world. MyCreditChain is designed to provide that information of objective personal data as well as people network information. MyCreditChain is the infrastructure of human interaction in the global level.MyCreditChain token will have tremendous value.
Question: Your problem is, "how does the bank accept it?" Today I asked a question about the banks and the old power.
Answer : Banks already have the people's personal credit information in their market. But as the fintech grows, there are new competitors coming into the market. P2P loan platforms is popping up everywhere. MyCreditChain will provide information for them. MyCreditChain itself is a financial market place.Would you want to get a loan from your local bank for 10% interest rate or from a P2P bank for 2% interest rate from Europe or US? The issue today is that there is no standard for credit rating across the globe. Blockchain Cryptocurrency has solved the currency issue across the globe.Now banking across the globe is possible if there is a platform that can gauge each person's credibility across the globe. MyCreditChain looks at objective personal credit information which varies depending on the country. Humans are social creature and the nature of human network is pretty much same for everybody. MyCreditChain incorporate that information which is universal in all human. That is why MyCreditChain can become the global measure for credibility and means for trust building.
Question: I understand what you say , But I doubt if the bank will cooperate with you because the banks lose their grip of the financial market!!! I think that first step for MCC is the collaboration with banks.
Answer : MyCreditChain aims to provide that service for the whole globe. Bank issue could be simple. Currently South Korean lawmakers are preparing constitutional amendment that establishes personal information right to be the fundamental right. Personal information right is about each individual's right to decide how their personal information used. That is exactly what MyCreditchain is aiming to provide. Banks have been prone to hacking. They have been losing tens of millions of personal information of their customers. Blockchain can solve the problem because MyCreditChain's decentralized data structure does not have a point of attack.
Question: I think credit bureau must be refusing to cooperate with MCC.
Answer : With MyCreditChain in service, people don't have to put up with the misuse of banks and SNS using their information for free.Credit Bureau would not have much power any more.Any one or any company can come into MCC and use the big data to generate useful information. Credit Bureau cannot have the power they have now. Because they will become just one of the many credit scoring providers using personal information. Once their monopoly of personal information is disrupted by MyCreditChain Service, they become a minor player. Everyone get paid for providing the information on the meantime. People get their power back.
Have questions about The first ICO of the Best Korean FinTech Company with new blockchain technology ; SECRET for making money easy and safe in ICO? My Credit Chain ?
Contact ICO PLATFORM PTE.LTD.
When & Where

15 Beach Rd
Wework beach centre
room1A
189677
Singapore

Wednesday, May 2, 2018 from 7:00 PM to 9:00 PM (Singapore Standard Time Singapore Time)
Add to my calendar