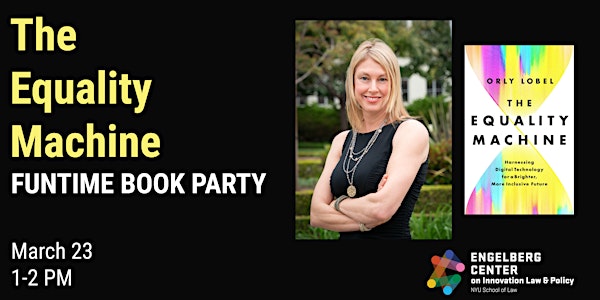 The Equality Machine FUNTIME BOOK PARTY
Orly Lobel, a renowned tech policy scholar, defends technology as a powerful tool we can harness to achieve equality and a better future.
When and where
Location
NYU School of Law, Vanderbilt Hall 40 Washington Square South Room 201 New York, NY 10012
About this event
Professor Orly Lobel presents her book, The Equality Machine (an Economist Best Book of 2022), in this one-hour FUNTIME BOOK PARTY.
Much has been written about the challenges tech presents to equality and democracy. But we can either criticize big data and automation or steer it to do better. Lobel argues that while we cannot stop technological development, we can direct its course according to our most fundamental values.
Lobel explains that digital technology frequently has a comparative advantage over humans in detecting discrimination, correcting historical exclusions, subverting long-standing stereotypes, and addressing the world's thorniest problems: climate, poverty, injustice, literacy, accessibility, speech, health, and safety.
Lobel's examples—from labor markets to dating markets—suggest how we can harness technology for good.
This is an in-person event, and we will not offer a livestream. However, we will publish the audio file on our podcast page here for your enjoyment a week after the event.
Lunch will be provided.
CLE credit pending.
This event is governed by the Engelberg Center's Code of Conduct