Description
Ride 25-40 miles along Brooklyn's waterfront from Greenpoint to Riis Park Beach! Discover hidden and far flung neighborhoods, pedal through city, state and national parks and take in spectacular bridge and city views along the Brooklyn WaterfrontGreenway.
Continue the fun at The Epic After Party at the Riis Beach Bazaar with bands, food, complimentary beer and take a dip in the sea! Riders will be fully supported by experienced marshals and mechanics along the route and refreshments will be offered at scenic rest stops. Complimentary bike valet will be offered at the finish line.
SUPPORTING BROOKLYN GREENWAY INITIATIVE
The Epic Ride is a fundraiser supporting Brooklyn Greenway Initiative, the non-profit organization committed to the development, establishment and long-term stewardship of the Brooklyn Waterfront Greenway. When complete, this 14-mile landscaped route for pedestrians and cyclists will connect neighborhood parks and open spaces from Greenpoint to Bay Ridge.

The Epic Ride will take place rain or shine. There is no rain date. In the event of cancellation due to severe weather, your registration fee is non-refundable and instead will be considered a charitable contribution to Brooklyn Greenway Initiative. If it's going to be a sunny day, don't forget your sunscreen!
DON'T HAVE A BIKE OR DON'T WANT TO RIDE THE EXTRA MILES TO AND FROM THE START AND FINISH LINE?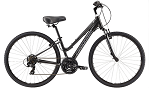 We have partnered with Unlimited Biking so you can ride The Epic on a (men's or women's style) bike that will be delivered to the start and collected from the finish line.

All of the bicycles offered are brand new Cannondales in a range of options to best suit your needs. They will offer the Cannondale Kids Bike with either a 20" or the 24" wheel, the Cannondale Adventure 3 Ladies Bike, the Cannondale Quick 6 Men's Bike, and the Cannondale CAAD8 Road Bike for those looking for a high-performance option.

*All bikes include helmet and Pedal Installment and Adjustments.

Go to their page to learn more! - Here!

VOLUNTEERS
Volunteer ride marshals, course marshals and event assistants are needed. For more info and to sign up, visit: https://epicridevolunteer2018.eventbrite.com

Registration is non-refundable, non-deferrable and non-transferable. If you decide not to ride, we can convert your registration into a charitable contribution. Brooklyn Greenway Initiative is a 501c3 nonprofit organization.