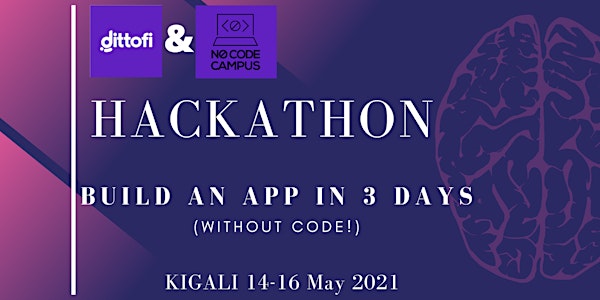 The Dittofi / No-Code Campus Hackathon, Let's Hack Rwanda
The Dittofi / No-Code Campus Hackathon, Let's Hack Rwanda
About this event
The Dittofi / No-Code Campus Hackathon is perfect for technical & semi-technical entrepreneurs, designers, business developers, product managers & marketers looking to build & own world class software without having to write code.
Do you want to build & own enterprise grade software products that solve real world problems without having to hire a developer?
Meet Dittofi. The world's first full stack no-code platform that empowers you with real code. During the Dittofi / No-Code Campus Hackathon you will learn how to build, host & own full stack, enterprise grade web apps using Dittofi.
We are so excited about Dittofi that we have created a free Masterclass video series. The series will be released 2 weeks before the hackathon so that you can sharpen your skills & get ready to compete.
Rules
You & your team of no-code hackers are going to compete to Hack Rwanda. Pick one of the three challenges in the fields of Micro Finance, Awareness & Entertainment. You will then build a functional full stack, web app & short business case in your area of choice. The web app will be built using the Dittofi no-code platform.
Don't sleep on the training. Two weeks before the Hackathon we will release training material for Dittofi, for you to sharpen your skills & get ready to compete.
You & your team will have three days to ideate & create & will then present your app together with a short presentation of your business case to a panel of judges who will determine the top three winning teams across all three categories.
Problems To Solve
Challenge 1: Microfinance for Rwanda
As we all know financing new ventures in Rwanda is not very easy. This challenge is to solve this problem. You & your team will compete by building an innovative microfinancing platform that will support investment into Rwandan based startups.
You will need to think about, what are the problems, not just with technology but also with attitudes towards investment? How can you design technology to facilitate investment in new ideas & change the way entrepreneurs access money for their businesses inside Rwanda.
Challenge 2: Awareness
You can create an app that aims to raise awareness around a specific topic using gamification.
It can be anything from handicap, gender equality, homosexuality, poverty, malnutrition, unemployment, sexual violence, child abuse, teen pregnancy, chronic disease (diabetes, hypertension, HIV,..)
Hint: How do you get people to engage with the content in a fun and interactive way?
Challenge 3: Entertainment
You can create a game, ideally something popular and typically Rwandan. Be creative and come up with a digital version of a game most Rwandans know and love.
If Rwanda isn't enough for inspiration, feel free to adapt an existing game to our local context.
Prizes
First place: $250 USD & the opportunity to interview for an 8 week, remote internship with Dittofi. This is a chance to build your professional overseas network. You will be working directly with the Dittofi founders & development team to help sharpen your technical skills. Amongst other things, you will attend meetings, shadow the executive team & build technical content.
Second place team prize: $250 USD to share amongst your team members.
Third place: Access to Dittofi design studio & unlimited all you can eat code for 1 years (face value of $500 USD per month). The license & the code generated under this model is for personal use only & neither the license or the code can be shared with a wider audience.