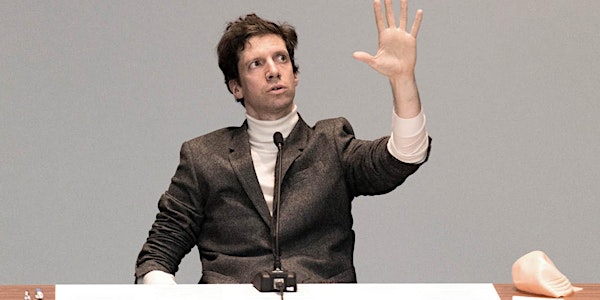 The Disorder of Discourse by Fanny de Chaillé & Michel Foucault
When and where
Location
The Cooper Union for the Advancement of Science and Art 41 Cooper Square New York, NY 10003
Description
French philosopher and historian Michel Foucault (1926–1984) is one of the most influential and controversial thinkers of the 20th-century.
Artist Fanny de Chaillé employs theater to restage one of Foucault's most famous lectures, L'Ordre du discours (The Order of Discourse). She at once re-imagines this historical moment, which was never recorded, and continues Foucault's investigation into the power inherent in words.
In her return to Crossing the Line Festival, de Chaillé presents this performative experiment within a college auditorium and simultaneously within the context of contemporary American politics.
The Disorder of Discourse is presented as part of Crossing the Line Festival, produced by the French Institute Alliance Française (FIAF). Co-presented with The Invisible Dog Art Center and The Cooper Union for the Advancement of Science and Art
Based on the work of Michel Foucault, L'Ordre du discours © Editions Gallimard.
A project of Fanny de Chaillé
With Guillaume Bailliart
Text: L'Ordre du discours of Michel Foucault, © Editions Gallimard
General stage management: Manuel Coursin or Willy Cessa
Production/Distribution: Isabelle Ellul
Communication: Jeanne Dantin
Production: Display
Co-production: Malraux scène nationale Chambéry Savoie, Bonlieu scène nationale Annecy, Théâtre Saint-Gervais, Théâtre Vidy-Lausanne, Festival d'Automne à Paris.
The Disorder of Discourse is supported by PEPS Plateforme Européenne de Production Scénique Annecy-Chambéry-Genève-Lausanne as part of the Programme Européen de coopération transfrontalière Interreg France-Suisse 2014-2020
With the support of the Comédie de Clermont-Ferrand scène nationale, and Centre National de la Danse, Pantin and Lyon
Thanks to André Scala, Antoine Muller, l'ENDROIT Chambéry, Université Lumière Lyon 2 and the École nationale supérieure des Beaux-Arts de Lyon
---
Post-show Q&A
Tuesday, September 17 with Fanny de Chaillé and Guillaume Bailliart
No late seating allowed
Duration
60 minutes
Language
French, with English supertitles