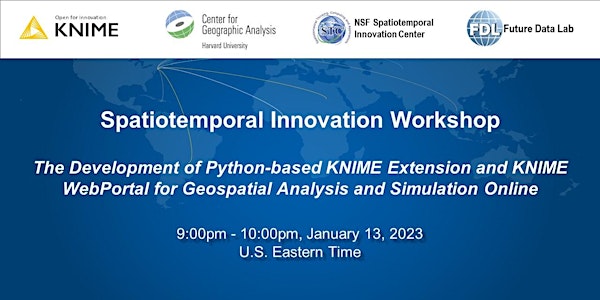 The Development of Python-based KNIME Extension and KNIME WebPortal
This webinar will focus on the development of Python-based KNIME extension and KNIME WebPortal for geospatial analysis and simulation online
About this event
Spatiotemporal Innovation Workshop
The Development of Python-based KNIME Extension and KNIME WebPortal for Geospatial Analysis and Simulation Online
9:00 PM -10:00 PM, Jan 13, 2023 (US Eastern Time)
Sponsored by the Spatial Data Lab (SDL)*, this training webinar will cover the following topics: (1) How to develop python-based extensions for KNIME; (2) How to convert a desktop based KNIME workflow to KNIME WebPortal for online geospatial analysis and simulation; (3) Applications of Geospatial extension for KNIME and online geospatial analysis and simulation with KNIME Webportal; and (4) How to collaborate with the SDL team on geospatial development and applications.
This webinar is free to the public. For those who registered but cannot attend the live webinar, we'll send you the webinar recording after the event. Please contact spatialdatalab@lists.fas.harvard.edu if there is any question.
*The Spatial Data Lab is a joint effort supported by the NSF Spatiotemporal Innovation Center, Center for Geographical Analysis at Harvard University, Future Data Lab, KNIME, and the Geocomputation Center for Social Sciences at Wuhan University,, which is designed to promote repeatable, replicable, and scalable spatiotemporal data science research, innovation, applications and global collaboration.