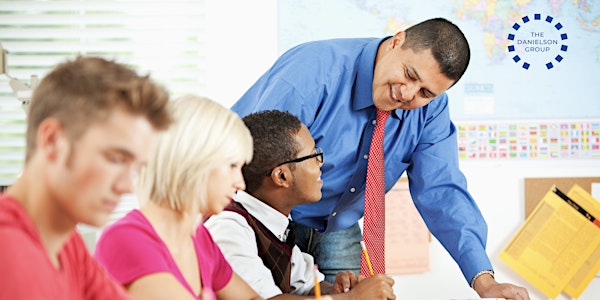 The Danielson Group's Spring Institute
THE DANIELSON GROUP'S SPRING INSTITUTE: USE THE UPDATED FFT TO FOCUS YOUR PROFESSIONAL LEARNING
Date and time
April 3 · 9am - April 4 · 3:30pm EDT
Location
Temple University Center City Campus 1515 Market Street Philadelphia, PA 19102
Refund Policy
Contact the organizer to request a refund.
About this event
1 day 6 hours

Mobile eTicket
This April, join the Danielson Group for an in-person institute on how you can use the updated Framework for Teaching (FFT) to focus your professional learning support on building instructional knowledge and practice in your school or district. Participants will develop a foundational understanding of the updated 2022 Framework for Teaching and deepen your understanding of how observation and feedback are important in growing and developing educators. This hybrid, two-day institute, merges our course offerings of A Common Vision of Instructional Excellence and Talk About Teaching: Growth-Focused Observations and Feedback 2022. With this new format, participants will delve deeper into how the FFT can be used to support reflection, observation, and conversations that support professional growth for educators.
This institute is designed for school and district leaders , instructional coaches, and teacher leaders who have at least two years of experience using the Framework For Teaching. If you are new to the Framework for Teaching and would like to attend the institute, we strongly recommend taking our 2022 Framework for Teaching (self-paced) Course first.
More training course details below:
DAY 1:
The Framework for Teaching: A Common Vision of Instructional Excellence
This half-day course develops a foundational understanding of the updated 2022 Framework for Teaching. Participants will draw connections between the Framework and their own practice as we focus on using the Danielson Framework as the centerpiece of a learning-focused culture and teacher-directed professional learning experience.
Talk About Teaching: Growth-Focused Observation and Feedback 2022 (Session 1)
The first half of session 1 will prepare participants to support a culture of adult learning in schools focused on reflective practice, collaborative inquiry and instructional coaching. Participants will learn the importance of trust and empathy in the observation cycle and strategies to remove bias when observing.
These course sessions take place on April 3, 2023.
9am—3:30pm ET
(Breakfast & registration is from 8:15 - 9am CT and there is a midday break for lunch. Please note that laptops are MANDATORY! There will be limited printed materials available.)
DAY 2:
Talk About Teaching: Growth-Focused Observation and Feedback 2022 (Session 2)
The second half of session 2 will help participants develop a deeper understanding of the Framework's components and rubrics, practice aligning evidence to the rubrics, and use critical attributes to document professional reflection and growth.
This course session take place on April 4, 2023.
9am—3:30pm ET
(Breakfast & registration is from 8:15 - 9am CT and there is a midday break for lunch. Please note that laptops are MANDATORY! There will be limited printed materials available.)
Exclusive Offer: Discounted Subscription To The FFT In Action
As a special thank you to you and your school team when you purchase ticket(s) to the DG's Spring Institute, you will receive 50% off a FFT In Action portal license for the full year! The FFT In Action portal, powered by 2gnoMe, is here to enhance your professional learning and turn self-reflection and classroom observations into a personalized learning experience. By matching high-quality resources to your individual professional learning goals, this will be a valuable tool for your and your district. With the FFT In Action, educators like you can explore the updated Framework for Teaching components to reflect on your practice, identify strengths, and areas of growth within each domain. 
Meet The Institute's Facilitators
Our team is looking forward to working with you and your team to enhance your school wide improvement strategies and support this April! Lee Kappes, Ed.D. and Brian Johnson of the Danielson Group will be the Spring Institute's training facilitators: 
Lee Kappes, Ed.D.
Director of Learning Strategies
Lee's career in education cuts across practice and policy at all levels of the education sector. In her 18 years as a classroom teacher, Lee lived out her belief that all students deserve highly-effective teachers. She went on to serve as a union president, staff developer, school leader, coach, and mentor, culminating in a position as a senior academic leader in an urban school district.
Not one to turn away from a complex problem, Lee facilitated a cross-grade level committee of teacher leaders and central office staff to redesign the district's assessment program for grades K-2 from a grade-based approach to a student-centered, artifact-based portfolio system.
Lee holds a BS in Elementary and Special Education from College Misericordia, MA in Educational Technology from Long Island University, Ed.D. in Educational Leadership, Management and Policy from Seton Hall University.
Brian Johnson
Director of Learning Design and Development
A lifetime advocate for education, Brian brings his passion to work every day. His career began with 11 years as a teacher in New York City classrooms, and he continues to stay connected with past students and teachers to provide resources and support.
During his time teaching, he was selected for several prestigious teaching awards and accolades. Brian was a semi-finalist for the U.S. Department of Education Classroom Teaching Ambassador Fellowship. He won the Sontag Prize in Urban Education where he studied pedagogy at the Harvard Graduate School of Education and taught at-risk students in Boston.
Brian holds a BA in Marketing from University of Kentucky, MST in Adolescent Education from Pace University and an advanced certification in Special Education from St. Rose College.
Participate in these sessions will earn how to implement collaborative observation cycles, inquiry cycles, and structures for team learning that can put professional development back where it belongs – in the hands of teachers. Save your spot and register today!
Terms
Attendance requires payment by credit card or the receipt of a purchase order no later than one week before the event.
The Danielson Group reserves the right to cancel or modify the event. In the unlikely event of a cancellation or postponement, you may receive a refund or a credit toward future Danielson Group Institutes, as you prefer. The Danielson Group is not responsible for expenses you may incur for a cancelled or postponed event. Refunds must be claimed or credits applied within the 12 month period following the date of payment.
If you are unable to attend, you must contact us by email. If you require additional information or have issue with the registration process, please email events@danielsongroup.org.
About the organizer
Our vision is that each student and educator experiences safe and inclusive learning environments that promotes joyful inquiry, efficacy, intellectual rigor, and reflection.