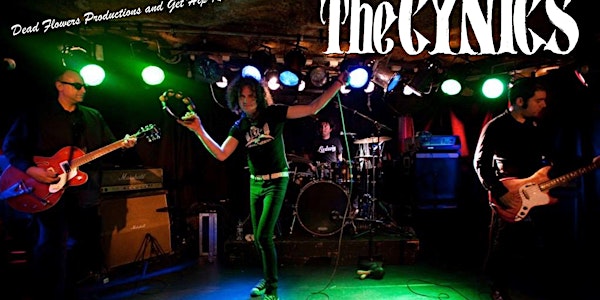 The Cynics with The Electric Mess and The Elevator Operators
When and where
Location
Gran Torino 131 Berry Street New York, NY 11249
Description
Dead Flowers Productions and Get Hip Recordings presents

THE CYNICS - 30th Anniversary Rock'N'Roll Tour!
with The Electric Mess and The Elevator Operators!
Plus: DJs Matt Clarke, Mr. Lee, and Frankzo!

Guitarist/producer/record company head Gregg Kostelich is the frenetic force behind the garage-punk institution that is THE CYNICS, formed in 1983. He managed to keep the band afloat in the wake of constant personnel changes, he recorded some of the finest garage tracks ever, and also launched one of the best independent record labels of the 1980s. The Cynics' style has been clear since their inception: fuzzed ultra-distorted guitar, screaming, moaning vocals, with a straight-ahead no frills rhythm section. The influences are extreme '60s punk, R&B, and other loud, frantic trash. Gregg has occasionally steered the band into flirtations with folk-rock and little pop, but it's the grunged-out punkers that have created The Cynics' reputation. Their first two 45s were released by the Californian Dionysus label, but soon after Gregg had established his own Pittsburgh-based GET HIP RECORDINGS who would release all of The Cynics albums and singles, as well as those by countless great garage, punk-rock and power-pop releases by other bands from around the globe.

Though Gregg's guitar is the backbone of the band, vocalist Michael Kastelic's contribution to THE CYNICS sound cannot be underestimated. In concert (and on record) he screeches, wails, and moans with great abandon, while his frail, thin body shakes throughout the room. Michael is a truly possessed frontman.

Doors at 10pm. 21+ with ID.
Tickets: $12 (Advance) / $15 (Door) Online Tickets at Eventbrite!