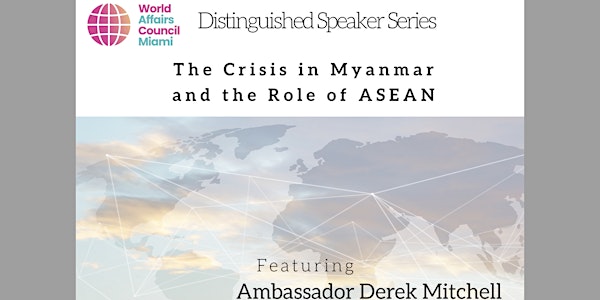 The Crisis in Myanmar and the Role of ASEAN
Join us for the Distinguished Speaker Series featuring Ambassador Derek Mitchell discussing the Crisis in Myanmar and the Role of ASEAN
About this event
This Distinguished Speaker lecture is supported by our partner, The Honors College of Miami Dade College. Please join us for an opportunity to hear from distinguished speaker, Ambassador Derek Mitchell, former US ambassador to Myanmar and President of the National Democratic Institute. This event done in partnership with the World Affairs Council of Jacksonville.
Ambassador Mitchell has had a distinguished career in and out of the U.S. government, in which he has witnessed the connection between democracy and international security. From 2012-2016, he served as U.S. Ambassador to the Republic of the Union of Myanmar. He was America's first ambassador to the country in 22 years.
From 2011-12, he served as the U.S. Department of State's first Special Representative and Policy Coordinator for Burma, with the rank of ambassador. Prior to this appointment, Ambassador Mitchell served as Principal Deputy Assistant Secretary of Defense, Asian and Pacific Security Affairs (APSA), in the Office of the Secretary of Defense. In that capacity, he spent six months as acting APSA Assistant Secretary of Defense, and was responsible for overseeing the Defense Department's security policy in Northeast, Southeast, South, and Central Asia.
For his service, he received the Office of the Secretary of Defense Award for Distinguished Public Service in August 2011. From 2001 to 2009, the Ambassador served as Senior Fellow and Director of the Asia Division of the International Security Program at the Center for Strategic and International Studies (CSIS). From 1997 to 2001, he served as Special Assistant for Asian and Pacific Affairs in the Office of the Secretary of Defense. Ambassador Mitchell was the principal author of the Department of Defense's 1998 East Asia Strategy Report, the last such report produced by DoD.
He began his work in Washington as a foreign policy assistant in the office of Senator Edward M. Kennedy (D-MA) from 1986-88. Most recently, Ambassador Mitchell has been a senior advisor at the Albright Stonebridge Group, the United States Institute of Peace, and the Center for Strategic and International Studies, as well as a lecturer for the Stanford-in-Washington program. He has authored numerous books, articles, policy reports, and opinion pieces on international affairs. He is the coauthor of China: The Balance Sheet—What the World Needs to Know Now about the Emerging Superpower (2006), and China and the Developing World: Beijing's Strategy for the 21st Century (2007).
Ambassador Mitchell received a Master of Arts in Law and Diplomacy from the Fletcher School at Tufts University and a Bachelor's Degree from the University of Virginia.