| | |
| --- | --- |
| The Collaborators: Interactive Art Show | |
Event Details


Live Art Show Schedule: - Up Coming Show Dates -

Friday, July 1st , 8pm - 12am Anton Vitkovskiy " Mannequin Army" Get Tickets...
The Collaborators: Live Art Show

by Anthony Frattin and Adriane Ayma

Paint the town red with a ticket to amazing art, atmosphere and fun!

Every Friday night, we showcase a different talented painter in our interactive live art show! We have created a great alternative night out in lower Manhattan! During the event you can peruse the art gallery filled with gems of affordable art created by local artists!

Find out what happens when you combine a blank canvas, three talented artists and creative and classy guests. Over the course of three events, these artists have the opportunity to create a single masterpiece.

Ticket include:

Admission to live art show. (Live art starts at 9pm sharp!)
Complementary Drinks and Bites served from 8pm - 12am

The Drink Selection:

Specialty Cocktails (Manhattan, Refreshing Spiked Raspberry Lemonade anyone??? --  Wine and Champagne. Non-alcoholic beverages include iced tea, Fresh fruit infused water, and Juice.

Bites Include: Raw Veggies, Dips, Cheeses, Mini Cupcakes, Cookies, Authentic theater Popcorn just like you get at the movies!

What, how, why, when...?

The Collaborators is an art project that was dreamed and conceived by Adriane Ayma and Anthony Frattin as a way to showcase the most talented artists as they create in our event. Each Cycle consists of a dream team of 3 artists to create a work of art live during the event. As they create they also exhibit their most recent work for you to peruse as you enjoy the process of watching them create a work before your eyes.
 
Purpose: We go through a painstaking selection process to create a dream team of 3 artists. We then observe the work of art unfold over the course of 3 weeks, each week a different artist takes their turn to add to the masterpiece! The process is documented and we are creating a documentary on the entire experience!

Week #1 Big Bang:

The first artist in the sequence will paint live starting off of a blank canvas. It's customary for us to allow the first hour for guest arrivals. After guests arrive the introduction will begin and the artist will begin painting shortly after 9pm. Over the course of the event, our guests mingle and add input to the piece as it is created.

Week #2 Evolution:

We repeat the same arrival process as and our next guest artist will be introduced.
The second artist in the sequence will paint live during the event to add to the work of art on top of what the week #1 artist created. What choices will they make? How will they work with what the previous artist made before? Will they leave room for the other artist to create? Lots of questions are answered and many more are created during "Evolution".

Week #3 Finale:

The burden to consider for the other two artists is the hands of the brave artist who is set in the finale. They must consider how to resolve the work of art based on their interpretation of what the other two artists created before them or just prime that canvas and make something all their own.

In each sequence the artist's choices will be examined during a brief audience Q and A during an intermission in the event. This is an open forum to ask questions directly to the artist. It's very interesting to find out what the artist has to say in response.
Tips:
- Dress Creative + Classy. Put you art hat on!
- When to arrive? Please arrive between 8 - 9pm as the artist is introduced and begins painting at 9 o'clock sharp.
-Celebrating somehitng? Did you know we also do private events? Check our website for details. www.fridaynightliveart.com
- Great experience Guarantee! We always do our best to make sure your experience is memorable or your money back! To qualify for this guarantee you must follow our dress code and arrive on time :)
- Affordable Art! While you are seeing the live art, you can purchase an innovative work of art from local emerging artists. We create deals with various artists to offer you lmited quanitities of their work at an low affordable promotional price. Works start at just $100!
Social: Connect with us on facebook  and @liveartnyc on twitter for our latest photos and news!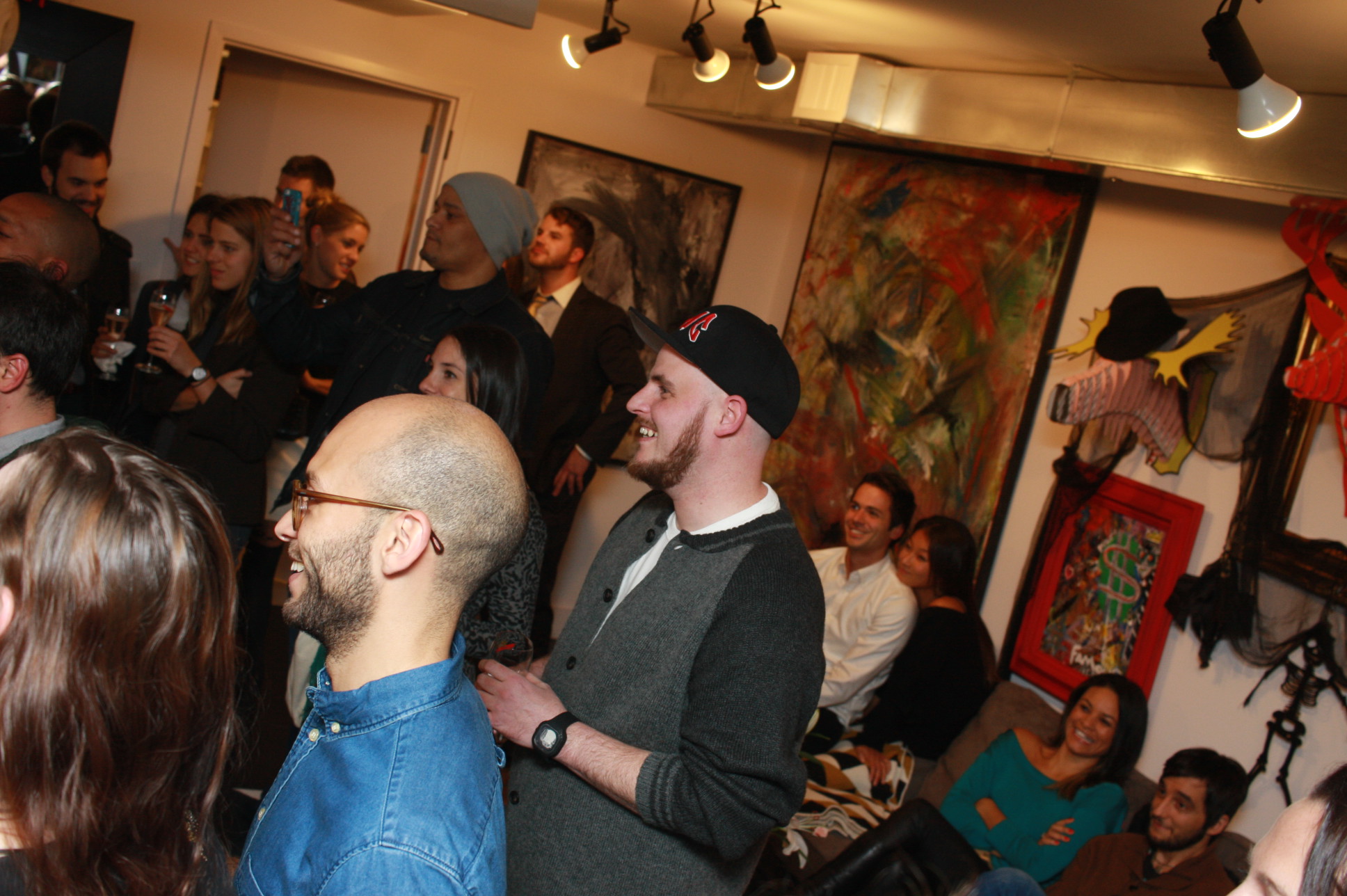 All proceeds go toward our art project.
TriBeCa Art FActory, 55 Murray Street, NYC ph. 917.597.9416 e: art@tribecaartfactory.com

Freequently Asked Questions
Q. What artists have recently participated in The Collaborators?

In 2016, We have had an amazing line up of guest artists perform in our event! From well respected established street artists Ellis Gallagher, Joeseph Meloy and Hatecave (Joe Brennan) as well as rising local stars Eddy Bogaert, Aaron Friedman and Connie Rose...Russian Artists's Marina Lizorkina and Anton Vitkovskiy have created spectacular pieces during our Live art event and continue to produce works in our affordable the gallery as well as obscure but very talented Francis Christie and Brazilian Murah Lemos.
Q. Are there ID requirements or an age limit to enter the event?
21 and over with ID.

Q. Will I get to paint during the event?
Answer: Nope. This is not a painting party! Our event is designed with the nuances of the individual artist's creative process in mind. The artist will be doing the painting. Our intent is to create a unique and authentic experience about learning about different artist's artistic process. During the event, you have the opportunity to give input into the piece as it is being created. This is about giving the public insight into the artist's process. Sometimes it's best to observe, occasionally questions are helpful and other times suggestions are welcome. Socializing is highly encouraged. Pay attention to the cues and enjoy the evening!
Q. How do I find out who will be the artist at the next event?
Answer:  We announce the artist who will be paintng 5 days before the date of the event via our facebook page. Visit the page and look under the event date you wish to attend.  https://www.facebook.com/Abdriane.Ayma.Art.Interior.Design/events
Adding yourself to the TriBeCa Art Factory Insiders Mailing List to get email updates once we announce the artist. By signing up you will also be entered to win limited edition art prints and other cool stuff. It's our way of keeping our followers informed and spreading some beautiful art around.
Q. How do I purchase the work of art that has been made?

Answer: You may discuss this with us at the event or via email at art@tribecaartfactory.com
Q. What do I do if I bought a ticket but I cannot attend? (please read instructions very carefully)

Answer: All sales are final, but we are able to work with you on switching ticket dates given there's a minimun of 24 hour notice prior to the event start time. If you miss the cut off time to switch your tickets to a different date you can give your tickets to a friend and let them enjoy the experience or you can let us know and we will try make tickets available to sell. We sometimes have a long wait-list so your ticket usually will be able to be taken. Let us know as soon as you know you cannot make it and we will do what we can to fill the spot. Text message is the best way to switch dates. Simply text: Please switch (# of tickets) (Your Name) From (date you bought ticket) To (date you would like to switch to) TXT to 917.597.9416.

You will receive email confirmation once the switch is successfully made.
Q. Is the gallery open during other times?
Answer: Our showroom may also be visited by appointment! To make an appointment contact us at art@tribecaartfactory.com or call 917.597.9416.
When & Where

TriBeCa Art Factory
55 Murray Street
New York, NY 10007


Organizer
Tribeca Art Factory
As of 8/15/2016 our events will be on temporary hiatus.
We will certainly announce our new schedule shortly. To receive email notification follow the link below:
> > >   NOTIFY ME   < < <
Special Note: Gilt City VIP Vouchers WILL STILL BE HONORED BEYOND THEIR EXPIRATION DATE since our hiatus is running through the voucher expiration date.
TRIBECA ART FACTORY est. 2014

Founders Anthony Frattin and Adriane Ayma created TriBeCa Art Factory to give emerging and established artists a way to create with a live audience present to showcase their work.
Anthony is a self-taught artist based in New York City. His works can be found in collections around the world. Adriane Ayma is an artist and interior designer. She is curator and art director of the Factory.
The Collaborators: Interactive Art Show