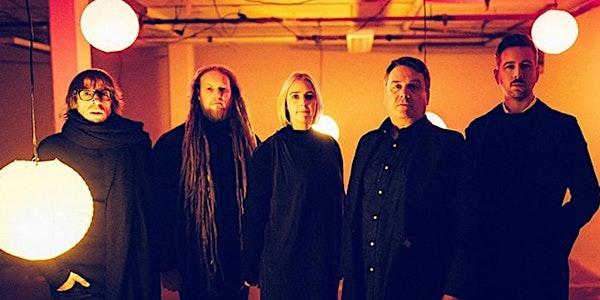 The Chills with Unwed Sailor and Ibex Clone at Crosstown Arts
Crosstown Arts presents The Chills with Ibex Clone in collaboration with Goner Records.
When and where
Location
The Green Room at Crosstown Arts 1350 Concourse Avenue Memphis, TN 38104
Refund Policy
Refunds up to 1 day before event
About this event
The Green Room at Crosstown Arts
Tuesday, November 8, 2022
Doors at 7pm | Show begins at 7:30pm
Tickets: $20
The Chills are a band from Dunedin, New Zealand fronted by the rare talent of Martin Phillipps. Originally formed in 1980, The Chills had a revolving cast of band members with Phillipps remaining the only constant. His knack for writing fantastic pop songs led to chart hits back home and a cult following around the world. With early releases via the legendary NZ label Flying Nun, The Chillsproduced a number of critically acclaimed recordings such as the single "Pink Frost" (their first hit) from the compilation album 'Kaleidoscope World' and "Wet Blanket" from the LP 'Brave Words'. Joining influential labels Creation and Homestead, they then moved to Warner Brothers imprint Slash and onto the world of majors.
At the height of their success John Peel invited them in for a number of BBC sessions(1985/1987/1988) which were released for the first time late last year. They released the album 'Submarine Bells' in 1990, where their single, "Heavenly Pop Hit" garnered much international praise and press. The band returned to NZ as national heroes and proceeded to release several more albums including 'Soft Bomb' and 'Sunburnt'. With a few years hiatus due to health problems, Martin picked up The Chills again in '99 and throughout the 00's playing shows around the world and reaching a wider audience and gaining a cult following.
The band have many faithful friends around the world and a new generation (Peter Bjorn and John, Songs, The Go Find, Panda Bear, The Shins et al) are now covering or attempting to emulate The Chills unique sound. Martin has a single-minded determination to take quality, original NZ-sounding, melodic rock music global. His requirement of band members has been to meet a standard of musicianship, which is necessary to deliver The Chills songs with essential consistent energy. This determination stems from the punk rock ethics of Martin's musical awakening and from the subsequent proximity to people like Chris Knox who drove home how crucial it was to deliver music always with intensity and conviction. This live energy is the central reason why The Chills are remembered fondly in all of the thirty-nine countries that they have thus far visited. It's the combination of this and the consistent quality of their songs which have established The Chills as one of the most well-known New Zealand groups to date – particularly in the US, UK, and Europe.
Still burning brightly, and with an extraordinary career, the group has gone through reformations with breaks on and off. With eight brand new tunes, they released the mini-album 'Stand By' in 2004. In 2013 The Chills joined Fire and Far South with their first release 'Somewhere Beautiful', a live LP unearthing rare recordings from a private NYE party. Subsequent EPs 'Molten Gold' and 'Stand By (Tour EP 2014)' and the acclaimed 'The BBC Sessions' LP then followed.
The highly anticipated new album (the first in around 20 years) 'Silver Bullets' was released October 30, 2015 on Fire Records. In June 2016 the band went on to play Primavera Sound Festival, Spain and sold out New York City and London shows. 'Kaleidoscope World' has been re-released with additional tracks on Flying Nun in 2017 on double gatefold vinyl to universal critical acclaim. The band recorded the new album 'Snow Bound' due for release in late 2018 and a feature film on Martin's life is now in post-production, due for release 2019.
Martin Phillipps (Guitar/Vox)
James Dickson (Bass/Backing Vocals)
Todd Knudson(Drums/Backing Vocals)
Erica Scally (Guitar/Keyboards/Violin/Backing Vocals)
Oli Wilson(Keyboards/Backing Vocals)
Unwed Sailor
The journey of Unwed Sailor began in Seattle, WA in 1998, shortly after Johnathon Ford departed critically praised bands Roadside Monument and Pedro the Lion. While working within those projects, Ford began writing instrumental music after listening to Tortoise, Pullman, and seeing bands like Physics perform live. After recruiting Dave Bazan (Pedro the Lion), Casey Wescott (Fleet Foxes), and Melissa Palladino (Danielson Famile) to play on the now classic Firecracker EP, Unwed Sailor was born. Two decades and seventeen releases later, Ford has continued to rely on the band as a device for personal exploration and emotive narration. Unwed Sailor now joins forces with Spartan Records for the release of their latest moody and cinematic journey, Truth or Consequences, a sonic examination of particular memories or moments in Johnathon Ford's life, with each song serving as a unique snapshot of an overarching narrative. Truth or Consequences is shaped around familiar musical DNA. Heavily present, driving, and stacked bass lines; wandering and evolving song structures; soaring crescendos and moody diminuendos; and, of course, a gripping sense of sonic storytelling.